An unmatched residential experience awaits you at Cass Lake Front Apartments in Keego Harbor MI. Our apartment homes were designed with your lifestyle in mind, and our two bedrooms apartments for rent offer you all the high-end comforts and designer features that will support your every need.
Our 2 bedrooms apartment rentals in Keego Harbor MI have been custom designed to offer the ultimate in open-plan living with 950 square feet of livable space. Also, we can't forget to mention that our average rent rates are the best in the area.
Our 2 bed apartment rentals in Keego Harbor MI have open concept floor plans that are perfect for a growing family, remote/self-employed professionals and retirees.
The Master Suite is the epitome of contemporary comfort. Just like our 1 bedroom units, here you will find oversized windows, plush quality carpeting and a sizable walk-in closet big enough for two. Our two bedrooms master suite is just the right size for your large king or queen bedrooms set, along with your favorite accent pieces.
What you will not find in our 1 bedroom apartments is this second bedroom, which features a generously sized closet with hanging space and a large window area that is ideal for a small at-home office space or a remote-learning station.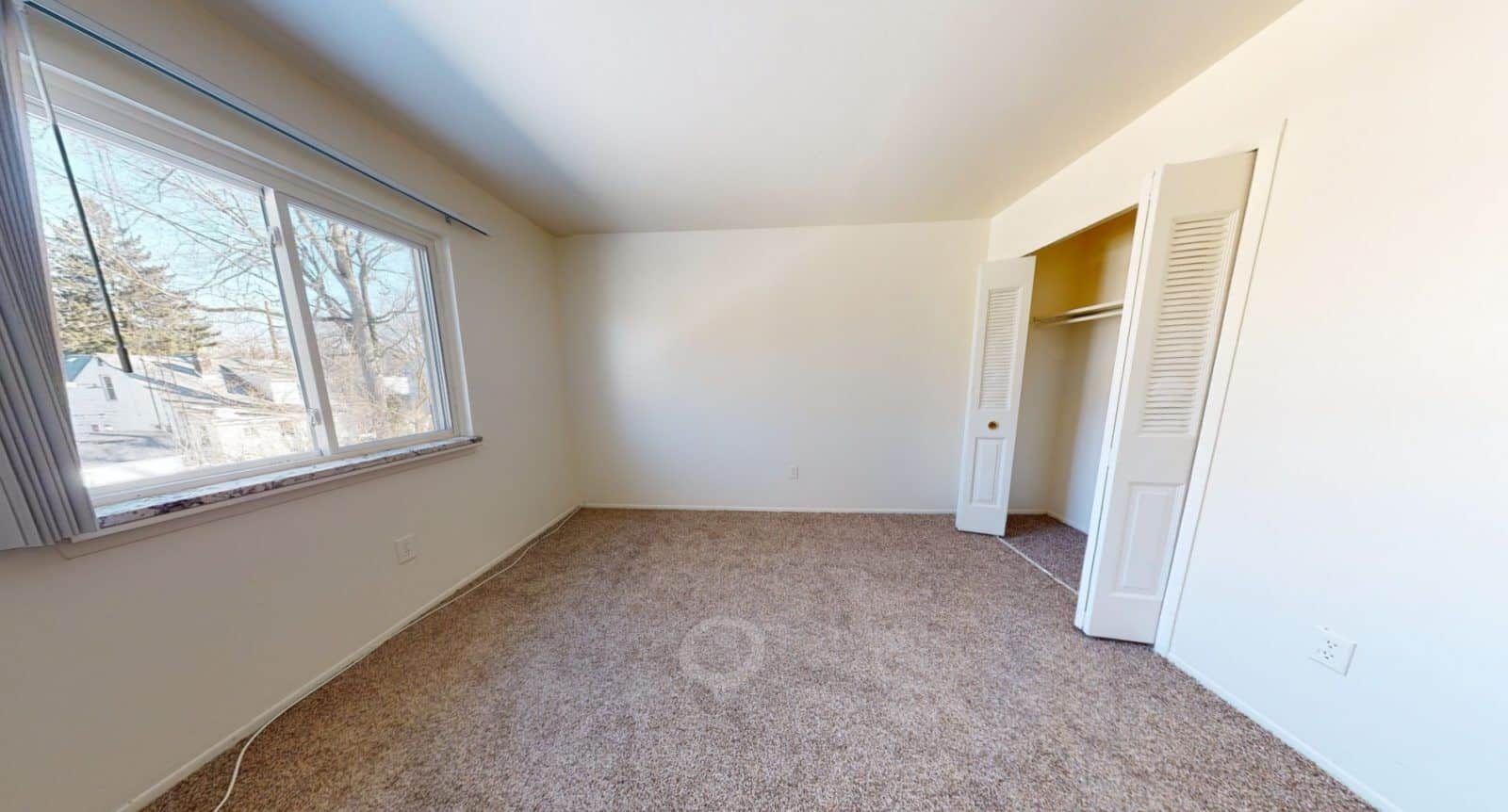 Long Hallway (3'3 x 11'9)
Our two bedrooms apartments in Keego Harbor MI definitely offer an abundance of living space. One particular feature here that stands out is the long hallway with storage (linen closet, pantry space, etc.). This hallway offers the perfect amount of distance between both bedrooms and the entertaining space in this apartment.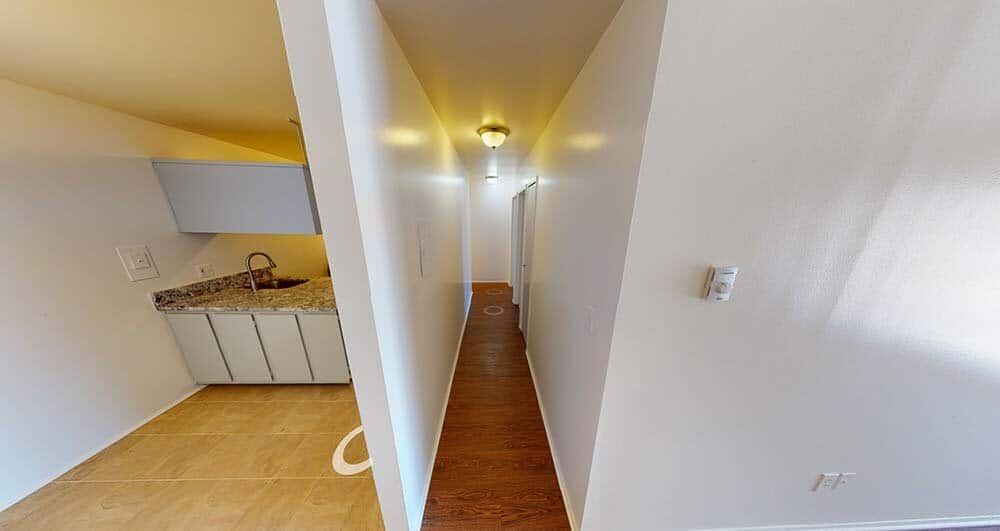 Living and Dining Room (11'7 x 21'3)
Just like our 1 bed apartments, here you will find stunning wood-style flooring, oversized windows that provide ample natural lighting, and room to grow. This expansive space can fit just about any living room furniture set, and the dining area can easily seat four to six people.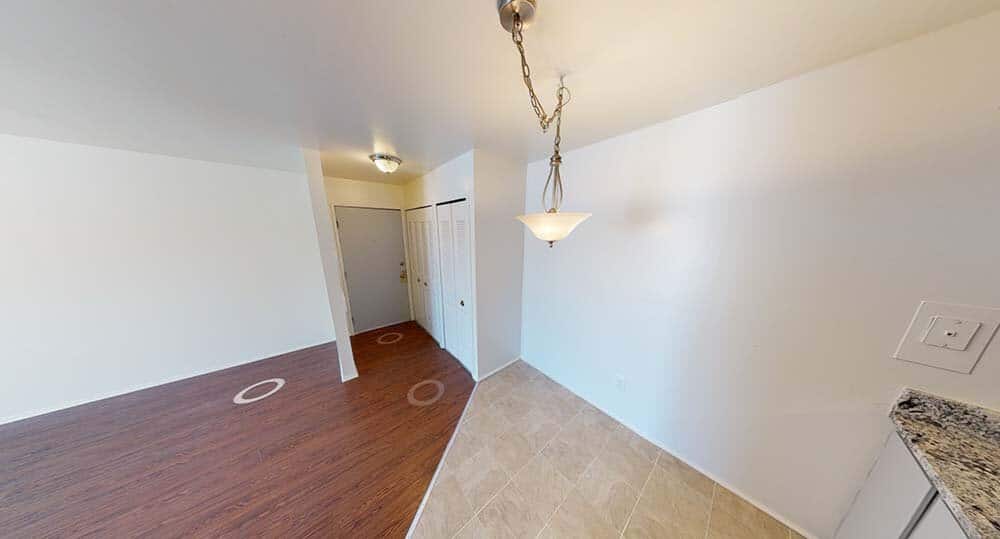 That said, our two bedrooms apartments for rent in Keego Harbor MI offer tenants a blank canvas, especially when it comes to this combined area, so you can truly make it your own. Some residents turn this space into a true entertainment spot with a bar cart, games, and a state-of-the-art entertainment center, while others divide the room and set up a home office or work station. Thus, what your combined living and dining room space will look like is up to you.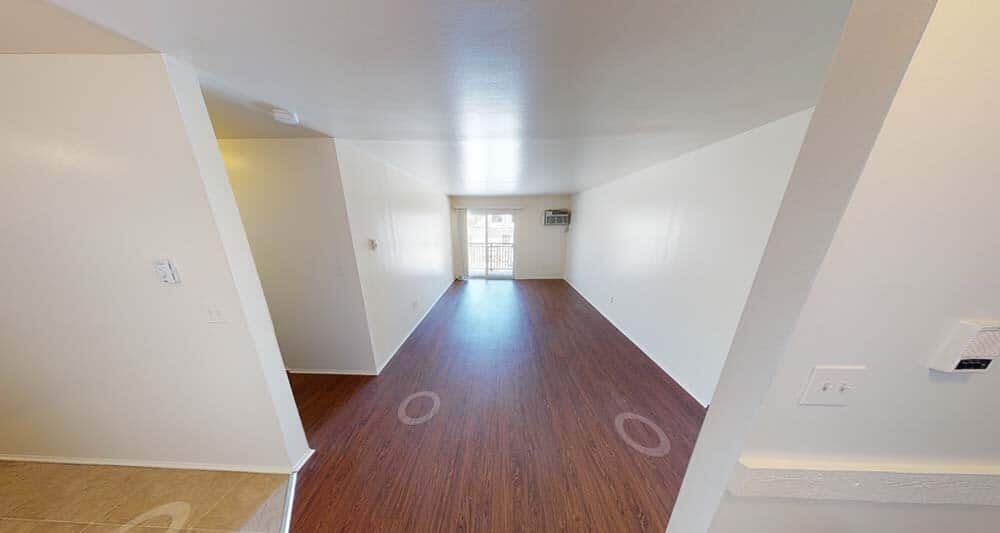 Galley Kitchen (8'8 x 7'8)
The kitchen is part of a custom open-plan design that includes the living and dining area. The kitchen combines modern elegance and functionality, blending granite countertops and soft-tone tile flooring with brand name appliances and custom cabinetry. This kitchen galley design creates a great social space and encourages casual interaction.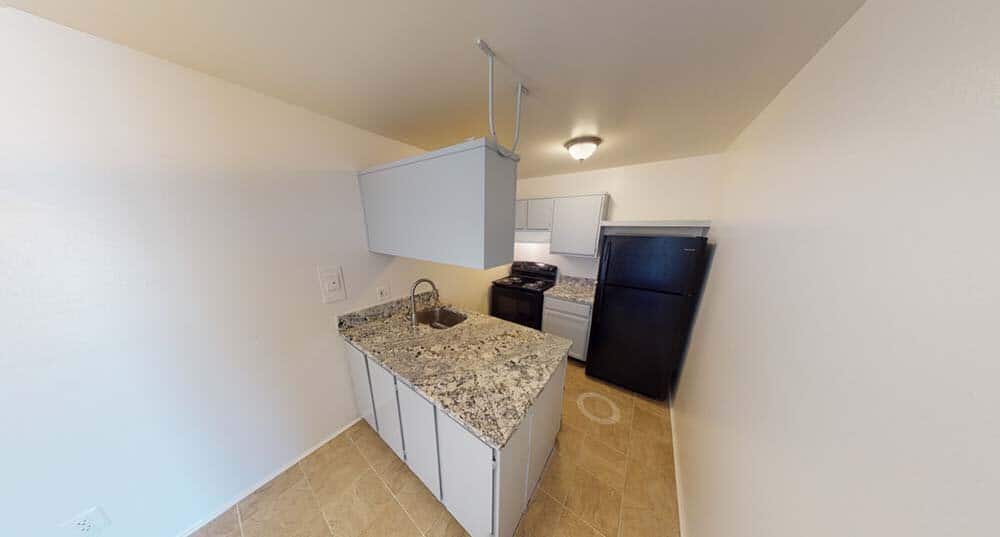 An Upscale Bathroom (6'1 x 11'2)
The bathroom is located down the long hallway for the utmost privacy. Notable bathroom features include stylish marble-like flooring and a high-end sink with surrounding floating cabinetry.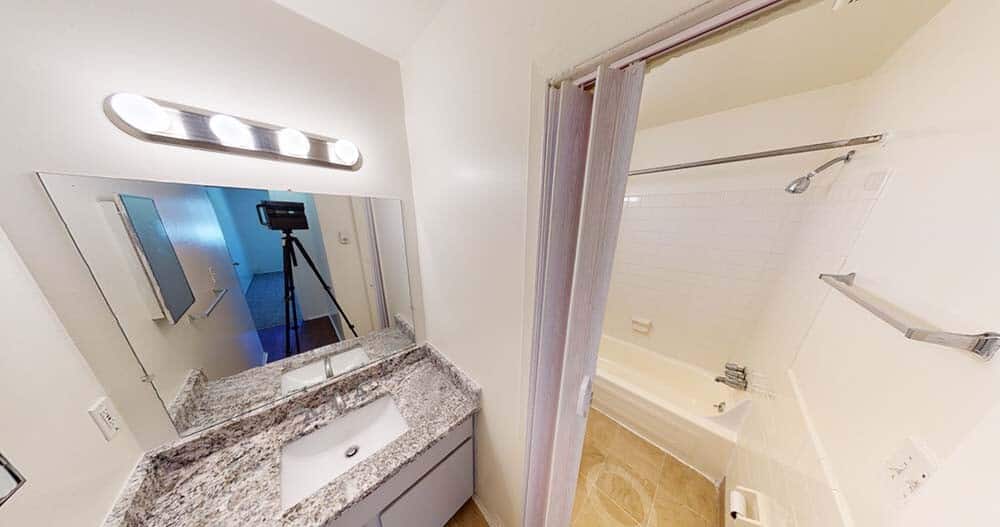 Modern Appliances
Our two bedrooms apartment homes in Keego Harbor MI come with modern appliances, a refrigerator, oven, range, garbage disposal and air conditioning.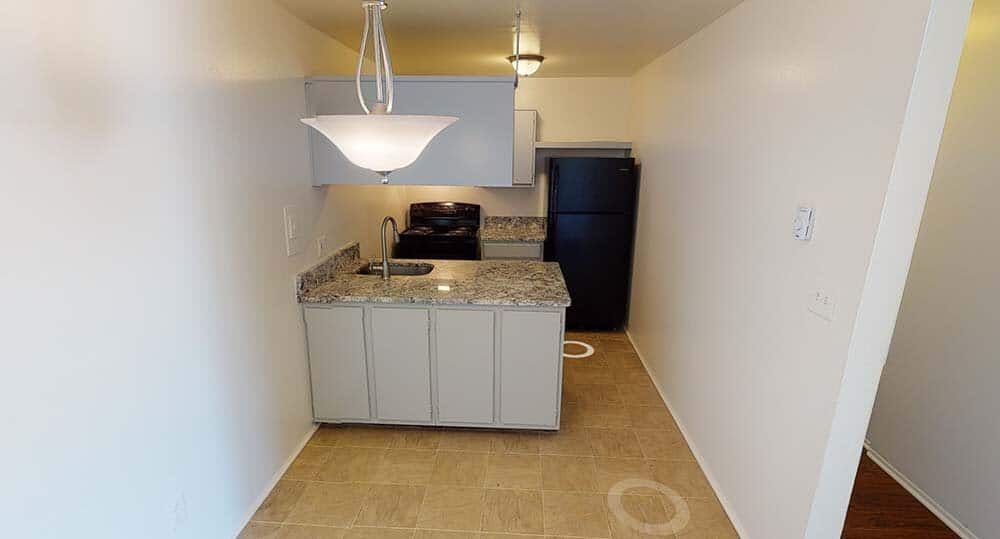 Apartment Home Comforts in Keego Harbor MI
Spacious Carpeted Bedrooms
Custom Flooring
Ample Storage and Closet Space
Window Treatments
Upgraded Light Fixtures
Smoke-Free
Open Concept Living
Combined Living/Dining Space
Galley Kitchen
Modern Oven/Range
Name Brand Refrigerator
Tub/Shower Combo
Designer Cabinetry
Cost-effective Heating and Cooling Systems
Terrace or Veranda
Internet & Cable Ready
Regular Security Check
Below Average Rent Rates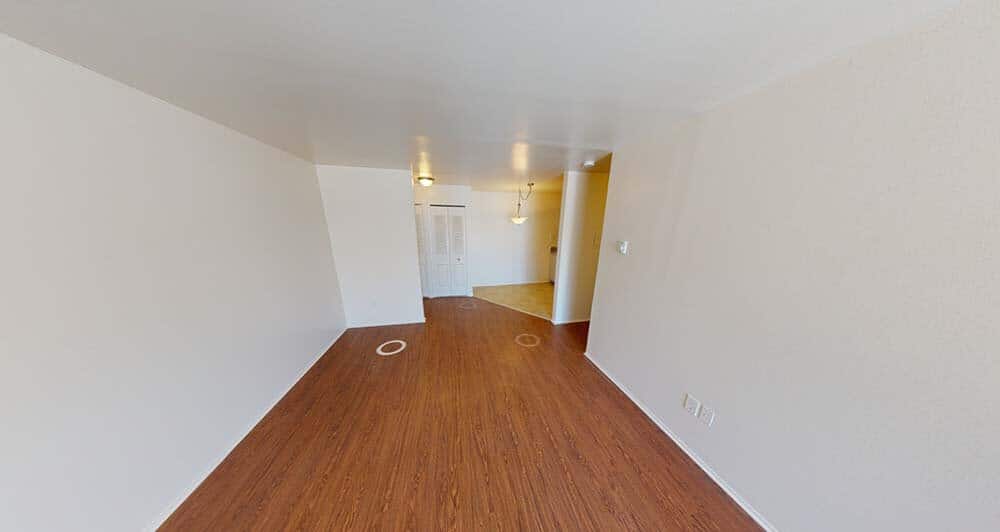 – Our average rent terms in Keego Harbor include a small security deposit, a one-time application fee and security check,  with multiple leasing options available.
– Monthly average rent on our Keego Harbor MI apartments cover most of your utilities (does not cover electric or heat).
– One designated carport covered parking spot comes with each apartment home and there are additional uncovered spaces for our two bedrooms apartments. Guest parking is also available.
– Cats and Dogs Allowed – Our Pet Policy does include certain breed restrictions for dogs, and there is a two pet limit per unit. For more information regarding our pet policies, fees, or rent, please contact the leasing office.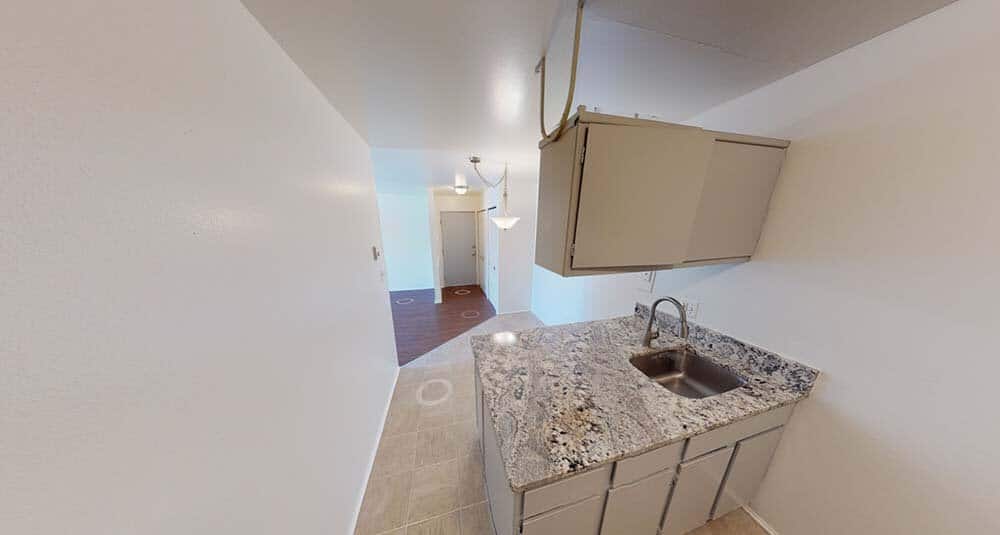 Apartment Complex Amenities in Keego Harbor MI
These amazing Cass Lake two bedrooms apartment rentals in Keego Harbor MI come with a variety of top-notch communal features and amenities, including:
Virtual Community Forum
Regulated Access
Onsite Maintenance
Onsite Laundry Services
Package Service
Communal Recreational Areas
Public Lake/Beach Access
Picturesque Lake Living
Management Sponsored Events
Nearby Emergency and Medical Services in MI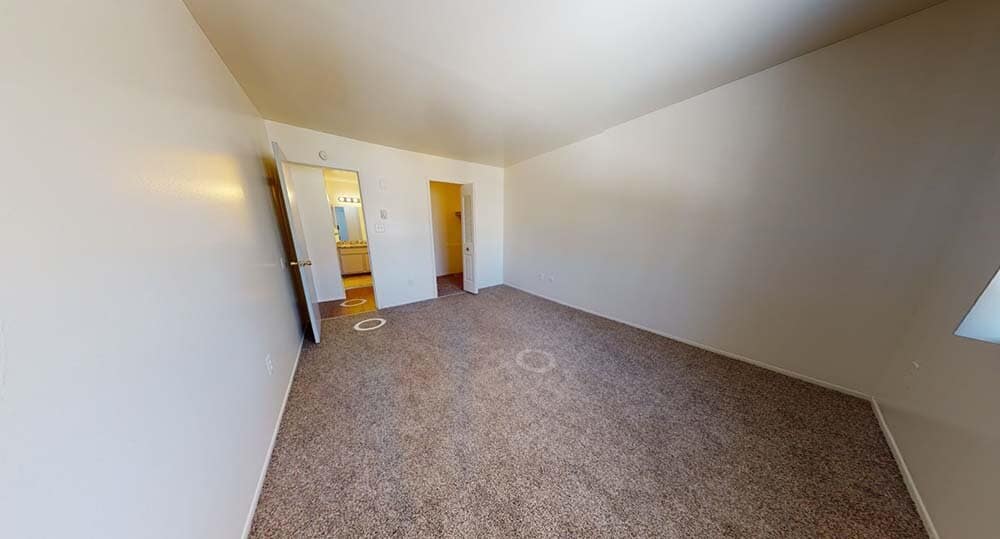 Check Out The Surrounding Community in Michigan
Our Keego Harbor apartments are located right off of Cass Lake Rd. on Cass Lake Front Rd. This sleepy beach town is the perfect place to put down roots, relax and enjoy life at the lake. The city itself is a recreational mecca with multiple lakes, like Pine Lake and Sylvan Lake, parks, swim sites, natural trails, historical sites, and near Keego Harbor adventure parks.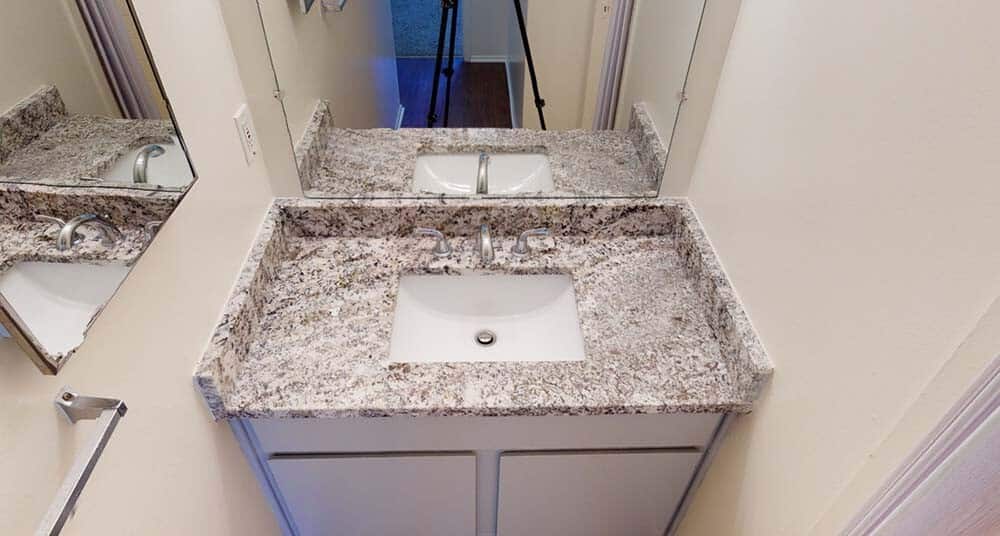 Keego Harbor MI also has a great downtown district with tons of restaurants and shopping right on Cass Lake Rd., and it is right around the corner from popular Michigan nearby cities zip codes like West Bloomfield MI, Novi MI, Southfield MI and Farmington Hills MI.
Our apartment rentals community in Keego Harbor MI has a prime location, with access to main roads and expressways like Telegraph, Northwestern, I-696, I-275, M-10, M-5 and I-96.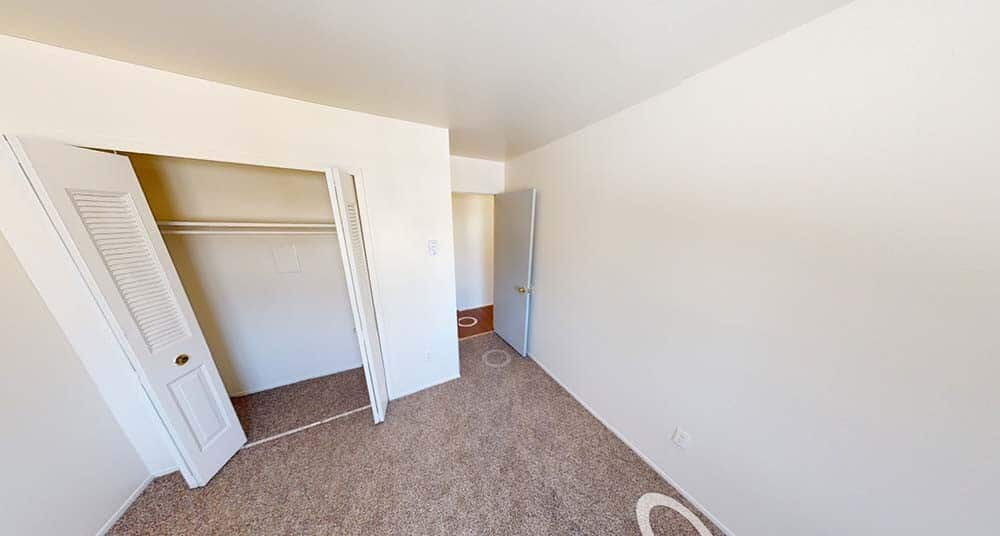 Take Away
So now that you have a better idea of what Cass Lake Front Apartments in Keego Harbor MI has to offer, you really have no reason not to take a tour of our incredible community. The nice thing here is you do not have to leave the house to take a tour of our two bedrooms apartment homes for rent. You can kick back, stay warm, and take a virtual apartment tour or 3D tour of your future apartment home for rent in Keego Harbor MI with ease.
That said, we do offer in-person tours for all of our apartment homes for rent in Keego Harbor, by appointment only.
Cass Lake Front Apartments is committed to keeping its residents, staff and prospective tenants safe by observing CDC health and safety guidelines, so please make sure you call ahead before stopping by.
Want more information about our affordable luxury, two bedrooms apartments in or near Keego Harbor MI? Then contact us today!