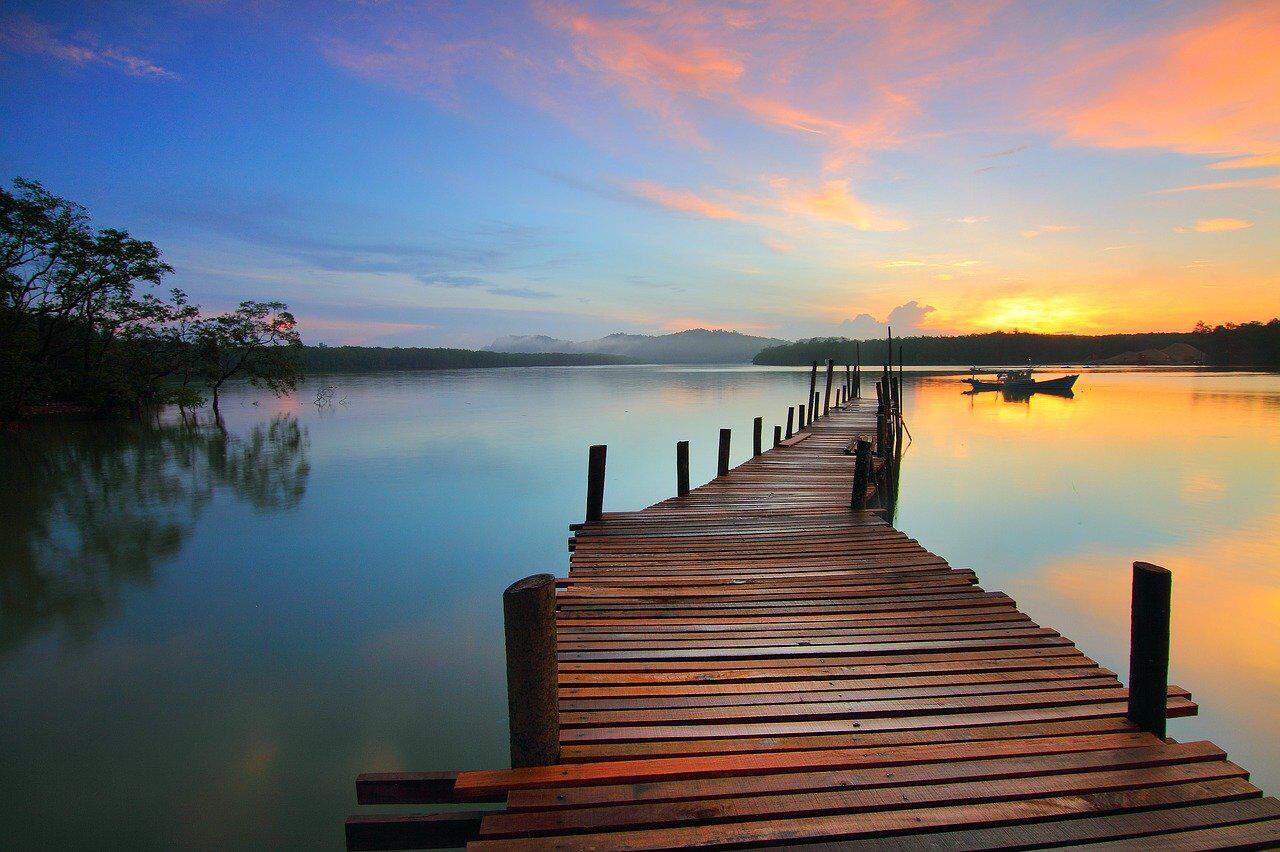 November 23, 2020 at 12:42 pm · Justin Becker · Comments Off on Top 5 Lakes in Oakland County, MI
The native Ojibwe people, who originally inhabited the space we call "Michigan," called the area "large water" thanks to the numerous lakes in the area. Today, Michigan still proudly owns its nickname of the "Great Lake State."
Not only is the state of Michigan surrounded by four of the five Great Lakes (only excluding Lake Ontario), but there are also over 11,000 inland lakes, including Long Lake in the north and Cass Lake in southeastern Oakland County.
Oakland County, located in southeastern Michigan, boasts a number of beautiful lakes and is also a conveniently close distance to the state's largest city, Detroit. Residents of Oakland County can commute to work or spend the day in Detroit and then retreat to their home, which is a safe distance from the commotion and noise of the major city.
Aside from its prime location, many people flock to Oakland County for the lakes. While many people visit, a few lucky people get to call Oakland County home. With almost 1,500 lakes to choose from, how does someone know which lake makes the best spot to create a home? Here, we cover the top five lakes in Oakland County, MI.
Lakes in Oakland County, MI
Living in Oakland County is all about living on the lake. In Oakland County, buyers pick where they want to live based on the lake they want to enjoy.
While similar in many ways, lakes in Oakland County each have their own distinct characteristics that make them stand out. Some people prefer large sports lakes with fishing and boating opportunities, while others prefer small, serene lakes with a great view.
Learn more about what Oakland County has to offer for lake dwellers as we cover the top five lakes in Oakland County:
#5. Walled Lake
Walled Lake is 670 acres, and it shares a name with the town it resides in, Walled Lake.
Walled Lake is a modest, yet charming town of just over 7,000 people and is about 20 miles outside of Detroit. It is named after the walls made by native people in the area, and was historically one of the stops on the famous Underground Railroad.
To enhance the lake experience for residents, the Walled Lake government purchased land in the area to create Mercer Beach, named after the Mercer family who helped develop the township.
Mercer Beach only takes up 0.8 acres of land, however residents get to enjoy 200 ft. of sandy beachfront. The beach includes a picnic area, playground, and water fountain. Portable restrooms are made available during the main season, but, due to the limited space of the beach, dogs and boats are not permitted.
#4. Orchard Lake
Orchard Lake in Oakland County makes the perfect summer escape for elite members of the Orchard Lake Country Club in Oakland County, MI. Orchard Lake is one of the largest lakes in the county, spanning over 788 acres.
Sink your toes in the sand as you walk the beachfront. When the weather permits, venture into the water to swim, kayak, or sail to the serene Apple Island, located in the middle of the lake. It will feel like you have access to your own private island!
Keep in mind that while beautiful, there is no public beach at Orchard Lake. There is only public access to the surrounding area, which includes a park. Access to the beach is reserved for the country club members only.
#3. Pontiac Lake
Located primarily in White Lake Township, Pontiac Lake is one of the best sports lakes in Oakland County, MI. Being a sports lake, you can expect to see people enjoying the lake for all it has to offer, including swimming, jet skiing, and numerous other water sports; it even includes a public boat launch.
Next to the lake is an impressive recreational area/park that offers numerous amenities, including a model airplane field, a dog-friendly area, and plenty of natural features, such as marshes and fields. The park also has a nationally renowned 11-mile hiking trail.
Pontiac Lake has room for everyone as it is one of the longest beaches in Oakland County, MI. It is also one of the best public lakes in Oakland County because everyone has access to join in on the fun!
Residents of White Lake and the small neighboring town of Union Lake, in Oakland County, have the convenient access to Pontiac Lake and everything it has to offer, including the annual "Quake on the Lake" hydroplane races.
#2. Lake Orion
Lake Orion resides in the appropriately-named town of Lake Orion.
Only 45 minutes away from the city of Detroit, Lake Orion in Oakland County provides a small town feel thanks to its humble population of fewer than 3,000 people. There is also a tinge of suburbia mixed into the vibe, albeit less than some of the other lakes on this list.
The Michigan Department of Natural Resources had canals made to create as much lakefront as possible at the relatively small lake.
Residents have access to a public boat dock for leisurely boating on nice days.
#1. Cass Lake
Cass Lake in Oakland County is the grandest lake in all of Michigan, covering 1,280 acres and plunging 123 ft. deep. Some may also grace it with the title of the most attractive of the southeastern Michigan lakes.
Home to the Pontiac Yacht Club, sea vessels sprinkle the waters, only enhancing the aesthetic appeal of our #1 choice out of all of the lakes in Oakland County, MI.
There are numerous different townships and cities near this Oakland County lake, including:
Waterford Township
West Bloomfield Township
Orchard Lake Village
Keego Harbor
Many of these municipalities offer access to the other nearby lakes in the area as well.
Finding Your Oakland County Home
Oakland County, MI is the second wealthiest county in all of Michigan. The Oakland County area attracts prosperous residents thanks to its beautiful lake scenery, recreational opportunities, and proximity to Detroit. Of course, the area comes with a hefty price tag. The average house in Oakland County sells for $355,000.
Many people opt instead to live in 1-bedroom apartments in Oakland County, MI.
At apartment communities like Cass Lake Shore Club Apartments and Cass Lake Front Apartments, in Oakland County, MI, you will enjoy the lakeview sites from the patio of your own affordable lakefront apartment. You will get free public access to our top choice, Cass Lake, Michigan, and your pets will love it, too! You simply can not beat the price for a lake home/apartment in Oakland County!
Of course, there are other choices outside of Oakland County. Learn about the pros and cons of apartments in Taylor, MI to analyze your options.