Knowing how to find the perfect apartment can be easier said than done. It is hard to find a place that has everything you need, in a location that is close to work and public transportation.
In addition, the pandemic's impacts have made finding a new home a more difficult task. This is because many people are worried about being infected with the virus. Also, since many have been financially impacted, they have no alternative but to downsize from a house to an apartment.
Apartment Search During COVID
With the housing market being so tight in many cities, people are looking for a place to live where they can save money. Renters have been facing the brunt of this problem with lease prices steadily on the rise.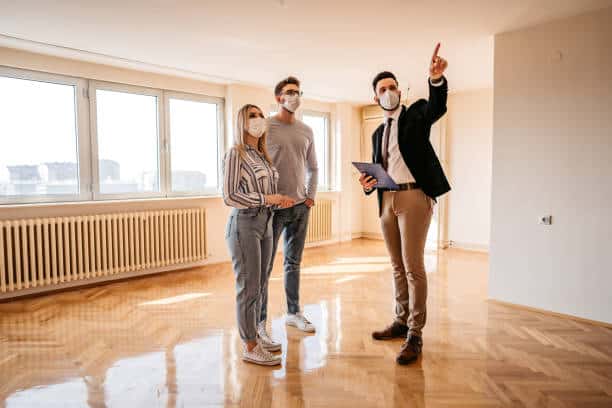 This has led some people to look into apartments rather than traditional houses. Renting an apartment is less expensive and does not come with as many responsibilities, such as yard work and gardening.
With that said, the recent flu outbreak is leaving many people wondering how they will find a new place to live. If you are looking to move, it might be difficult because of the pandemic's impacts on housing, and overall way of life.
This article will include tips on finding apartments that are in a good location, affordably priced, and more, all while staying safe during COVID-19.
Begin by Setting Your Budget
The first step to finding your next apartment is defining your rental budget. You may be surprised at how much you can save by defining a specific budget range. For example, if you are looking for a 2-bedroom apartment for rent that falls within the $1,500-$2,000 range, you may be able to find a spacious 1-bedroom apartment for rent for closer to $1,000, which may be more within your budget.
If you are working with a real estate agent, you and the agent must work together to define how much you can afford so they can show you listings within your price range and not waste your time. In addition, you can use a rent calculator to help you determine the rental price range you can afford based on your current income.
Use Online Tools
Physical apartment hunting can be fun, but it can also be dangerous, especially nowadays. One of the biggest risks, ofcourse, is catching the virus. It is a common misconception that you need to be kissed or coughed on in order to contract the virus, but that is simply not the case. For instance, nearly everyone will contract COVID if they enter an infected home and then touch their eyes or mouth before washing their hands.
In an effort to avoid contracting the virus altogether, online tools are a great way to find your dream apartment. With so many tools available, it only takes a few minutes to get an idea of what you want instead of heading out to tour the neighborhoods.
The first thing you should do is narrow down your search by location, price, number of bedrooms, and other specific needs. Once you have a list of potential apartments to look at, it is then a good idea to go on their websites and explore the amenities they offer.
Here is the list of websites to search apartments for rent:
Craigslist
RentCafe
Zillow
com
NOTE: The rental property market is really competitive, and with a high number of scams being reported, it is very important to be careful while searching for apartments online. There are many ways scammers try to get your money and personal information.
Take Virtual Tours
The need for virtual tours has grown as more people are interested in renting instead of purchasing. A virtual apartment tour gives potential renters a feel of what it would be like to live in the unit without ever physically being there. Some companies have gone even further and offer 360° views so you can explore the property from any angle you please.
A virtual tour will give you the ability to see the apartment's layout and help you determine whether or not it is worth touring in-person. With that said, virtual tours have not only lowered the odds of coming into close contact with people infected with COVID-19, they will also help save you time and money.
Do Heavy Research
When you search for an apartment to rent, you are going to be looking at dozens of sites. You will look at the prices, the reviews, the photos, and more from various listings.
The research process of renting an apartment is going to take up a lot of your time, if done properly, but it will also help ensure that you find the right place for you.
Generally, if you are considering renting an apartment, one of the most important tasks is to find a neighborhood that meets your expectations. These days, there are many ways for people to learn about prospective neighborhoods. For example, one method is to use Google Street View, which is a program that allows you to explore the streets and learn more about the area where you want to live.
You can also use various websites to research cheaper cities cost of living, crime rates, among other things. Keep organized notes and prioritize what is important to you in order to pick the perfect location.
Make a Case for Yourself
Many have fallen behind on their rent since due to the COVID-19 outbreak. In fact, one out of every three Americans has missed at least one rent payment.
As a renter, you know better than anyone how difficult it is to find rentals when you are behind on your payments. Your chances of getting approved will be better if you can establish your financial stability by paying your entire move-in cost in advance, if not more (i.e. what is a security deposit for an apartment, first month's rent, and additional months if possible) or proving that you have been making consistent lease payments with your current or previous landlords.
A good credit score will also assist you in proving your case, especially since it is a great indicator that you are good with financial management.
Consider Signing a Lease without Seeing the Apartment
We would not normally recommend this, however with the onset of the new social distancing measures, people may have to sign their lease virtually for security reasons. Not to mention that vacant apartments are gone in a blink of an eye in this market.
How COVID-19 has Affected Americans Financially
A foreclosure moratorium for anyone with a federally backed mortgage (Fannie Mae and Freddie Mac) and forbearance plans was imposed at the pandemic's beginning to help minimize the number of foreclosures; it suspended the need for tenants to make timely payments for 18 months, then was terminated in July 2021.
In 2020, 46% of homeowners failed to pay their mortgage, with the majority falling behind by up to $2,000 in mortgage payments.
There was also an eviction moratorium that was implemented during this same time, which safeguarded renters from eviction. The Michigan Supreme Court issued an administrative order to instruct courts on handling eviction cases in which the landlord was served with a CDC declaration letter.
According to property data firm Attom, from July to September of 2021, over 45,000 properties were in the foreclosure process. This is just one statistic emphasizing how Americans are struggling financially.
On the other hand, the unemployment rate has edged down to 3.5% in February, 2022, according to the U.S. Bureau of Labor Statistics. With that said, there are still many unemployed tenants that are falling behind on their rent, resulting in eviction.
Although the eviction moratorium benefited several Americans, falling behind on your rent payment significantly influences your ability to find an apartment in a new city.
NOTE: If you have been evicted and need assistance, Michigan legal help can assist you in preparing for the court (eviction case); however, it is not a substitute for legal counsel. You can also reach out to the National Apartment Association for guidance on assistance.
Other Facts
The COVID-19 pandemic has also exposed how most Americans have a dismal savings plan. According to List with Clever, more than 50% of Americans are currently living paycheck to paycheck.
The government responded to the financial burden/financial hardship imposed by the pandemic by establishing the CARES Act, which provided a one-time stimulus check of up to $1,200 and an additional $600 per week in unemployment benefits.
In addition, the federal government established COVID emergency rental assistance for low-income households affected by the pandemic, which currently helps with monthly rent and utility assistance (learn how to keep utility bills low in an apartment here).
The Coronavirus Relief Fund (CRF), established by the Coronavirus Aid, Relief, and Economic Security Act (CARES Act), provides funding for the COVID emergency rental assistance program (ERA).
The overall stimulus package for the two ERA programs, ERA1 and ERA 2, is $25 billion and $21.5 billion, respectively.
According to the United States Department of the Treasury, more than 420,000 households received COVID emergency rental assistance totaling $2.3 billion in August 2021, more than three times the amount spent in May of that same year.
Observe the COVID-19 Safety Measures to Keep Safe
We must all acknowledge that COVID-19 will be with us for the foreseeable future and that understanding how to cope with it will reduce the number of infections and deaths.
Keeping a safe distance from others, routinely washing your hands, and using hand sanitizer are some of the most important precautions to take so you can avoid catching the virus, according to the Centers for Disease Control and Prevention (CDC). Also, avoid touching your nose, eyes, ears, or mouth by all means possible.
Final Thought
Renting a new apartment can be a stressful and frustrating process, let alone a pandemic to deal with on top of it all. The good news is that understanding the COVID-19 pandemic safety measures is a great approach to counteract the spread so you can search for an apartment without putting yourself or others in danger.