Fighting against dust can sometimes feel like a losing battle. Even if you don't live in an area with a lot of dust, your apartment will need some attention in that area every week or so. However, it may feel like the soil particles start gathering again the second you're done with that chore.
Can You Keep Dust Out of Your Apartment?
There are many reasons why some people feel that apartments are better than houses, and dust control is one of them. A house means that you usually have more space to dust and clean. Most houses also have a lot more places where the dust can get in, as opposed to an apartment.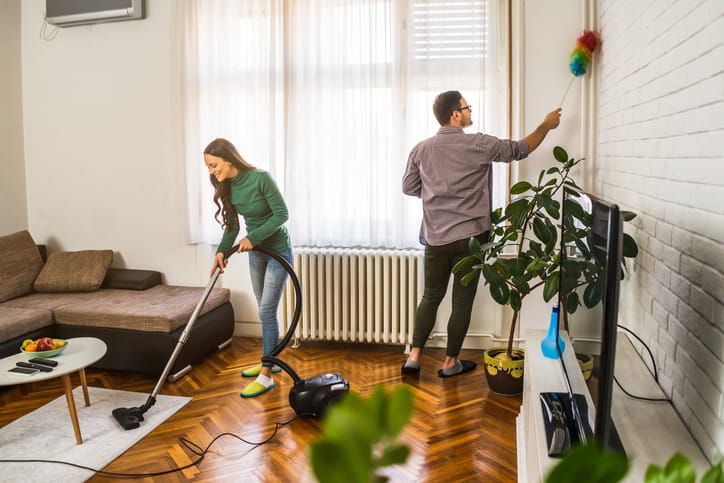 On the other hand, if your apartment or condo is in an older building, the heaters and air conditioning system might make the air stale and dry. A deep clean will hopefully get everything dust-free and fresh, but you don't want all your efforts to go to waste.
Before you set aside a day for that cleaning or break out the vacuum cleaner, check out the steps below. They just might be the answer to reducing the dust in your apartment for the long run.
How to Reduce Dust in Apartment
Dust in your apartment isn't just made up of soil particles or other outside elements. It's important to keep in mind that indoor dust also includes dead skin cells, pet dander, and many other substances that come in through the air ducts.
The following tips can help to keep your apartment dust free:
1. Change the Bedclothes Weekly
If you have a pet, you'll definitely look into ways on how to puppy-proof your apartment. However, many people may not consider staving off the various dust components in the same space.
Even if you have an air purifier in just the right place, dust mites can get into the bedding, mattresses, and sheets. The longer the bedclothes stay there without changes and washes, the more chances you have of dust mites and excessive dust to accumulate.
The accumulating dust particles on your bedding will not only reduce air quality, but it will also lower the quality of sleep or rest you get in that bed. The mites, dead skin cells, and stray hairs will make for an itchy experience. Plus, when you get out of bed and walk around your apartment, you'll be spreading that dust and debris everywhere.
The opposite is also true; if you get into bed without showering first, or at least changing into night clothes, the dust from the rest of your home will get into your sheets.
At the end of the day, all your bed clothes or bed linen needs a thorough wash at least once a week. If you've just returned after a trip (even for the weekend), make sure to change the bedding completely before hopping into bed.
2. Clear Up the Clutter
A lot of frugal apartment dwellers might hold on to knickknacks, decoration pieces, and even broken down materials for the long run. These might be difficult to reach, so dusting them is a double chore. At the same time, they're probably the first places where the dust appears.
One of the main reasons for excessive dust is holding on to clutter.
Clutter will Collect Dust
While you can control the buildup of dust particles by regular dusting and investing in air purifiers, all the air filters in the world wouldn't make this job easier. The fewer items you have out on display, the easier it will be to clean and maintain cleanliness.
This is especially true of textiles and fabrics as they tend to collect dust in spite of having an air purifier in the room. They'll also produce dust as textiles fibers attract dust particles and human skin flakes.
When you're choosing a new home, it might be difficult to decide between a mobile home vs. apartment. Do consider the space issue when making your final decision; even a few extra items in a small space will add to a cluttered look.
3. Go for Hardwood Flooring or Tiles
If you've ever swept a carpet with a broom, you know that these things trap dust like nothing else. No matter how attractive a carpet might be, do your air purifier a favor and get hardwood flooring or simple tiles. You'll be thanking yourself when it's time to sweep up any debris, clean up spills, or perform a deep clean of the home.
Consider Area Rugs
There are people who want the feel of a carpet or rug under their feet in their own homes. Instead of wall-to-wall carpeting, which could trap dust and trigger dust allergies, consider a compromise with area rugs.
Fortunately, area rugs are easier to lift up, vacuum under, and generally deal with to avoid dust buildup. This way, you don't have to live with dust mites or dust particles daily.
4. Choose a Damp Cloth for Dusting
As opposed to a feather duster, a damp cloth is much more effective at getting rid of dust from your surfaces.
Dry dusting tools will only move the dust mites and dust particles around. If you want to dust effectively, soak a cloth in water and wring it out before starting on the dusty items. This way, you'll actually reduce dust since the cloth will absorb it.
Other Advantages of Using a Damp Cloth
Other than dealing with dust particles effectively, here are some additional benefits of using a wet or damp cloth for dusting:
It will save some vacuuming sessions, which is a great way to help keep utility bills low in an apartment
Helps to keep the apartment dust free for a long time
Easier to remove pet dander and avoid dust allergies
Easier to improve air quality
When you're renting an apartment, dust may not be a very common problem. However, it's still a fact of life and needs the proper precautions.
5. Invest in an Air Purifier
An air filtration system can transform that stale and stuffy air in your apartment into a much more pleasant atmosphere for breathing. Many modern air purifiers now have an HEPA filter inside their design. Not only will these trap dust from floating around your home, but they'll also release a nice scent to mask any mustiness in the air and make your apartment smell good.
You can also pair air purifiers and air filters with essential oil diffusers or humidifiers. This will enhance the air quality in any apartment fairly quickly. Since the air purifier will collect dust, as well as hair and skin cells, you won't feel the need to deep clean your home every single day.
6. Perform a Daily Quick Clean
Speaking of cleaning your apartment, you can help out your air purifier by preventing dust accumulation as much as possible.
Even a HEPA filter can only do so much, so lighten the load by working on the household dust each day. This doesn't have to take long; simply grab some damp cloths and start removing dust from the various dust magnets around your home.
Just a few minutes with that cloth can prevent dust, lighten the burden of your HEPA filter, and control how much dust stays on your surfaces.
7. Use the Right Vacuum and Cloths
We've already discussed using damp cloths, but switching to microfiber cloths is also a logical step. Microfiber cloths will trap dust and debris, which you can then rinse out after the dusting chore. This also means less residue and streaking, leaving behind a cleaner surface without much effort.
Vacuums are also good for getting rid of dust, but the best choice is a model with a HEPA filter. These filters are not just for an air purifier; they might be essential for those who suffer from dust allergies.
These air filters trap the particles that come inside the vacuum and don't let them go out again. In spite of any air purifier you may have, do make sure to thoroughly vacuum your whole apartment at least once a week.
8. Get Rid of Your Blinds
Slatted blinds may look nice in a room, but they're veritable dust magnets and a pain to clean. Instead of these, consider getting lightweight window treatments. This option will be much easier to clean and less likely to accumulate a lot of dust.
You can opt for plastic roller shades, that one can easily wipe clean, or go for synthetic washable curtains. However, if the blinds have to stay, vacuum them each week and wipe them down on a regular basis.
The Takeaway
Particles of soil and dust affect people with allergies, little kids, and small pets around your home. Plus, that dusty layer on top of everything doesn't do anything for the general comfort and ambiance of your living space.
Since we can all agree that reducing dust is an essential step, try out the steps above on your apartment today. Even a little effort can save you a lot of hassle and worry in the near future!