Moving to a new apartment, especially if you are just starting out, can be stressful due to the expenses involved. For example, purchasing furniture and appliances for a new place is costly, and there are other fees to take into account, such as pet fees and security deposits.
That said, a minimal monthly revenue stream may not be sufficient to cover your needs. Seeking help from parents is not uncommon when it comes to dealing with new apartment expenses. As a result, many people rely on their parents and relatives for financial support.
Can My Parents Lease an Apartment for Me?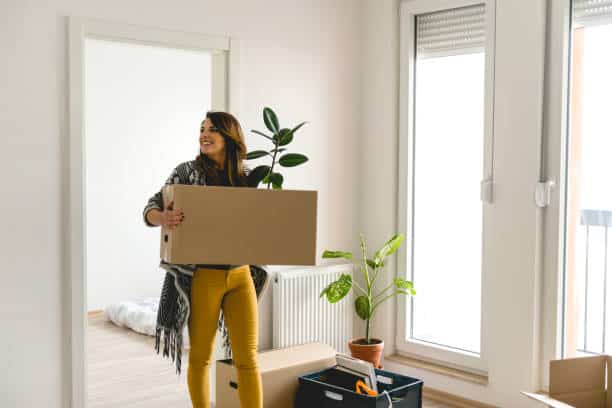 Yes, your parents can lease an apartment/rent an apartment for you, and they can co-sign as guarantors, which means they will be liable for paying rent if you are unable to do so.
Parents may co-sign as guarantors for a variety of reasons, such as if the tenant has a poor credit score or none at all, or if they do not have a previous rental history with which the landlord can compare your ability to pay rent.
With that said, we dive deep and uncover all you need to know about how your parent/legal guardian can lease/rent an apartment for you.
What is a Guarantor?
A guarantor is someone who agrees to pay rent (rent an apartment for you) if you are unable to do so according to the terms of your lease. It can be one of your parents, relatives, or friends.
With that said, being a guarantor is a massive responsibility, which is why it is always best to find someone you can completely trust so they do not let you down when you are in a crisis.
By agreeing to be your co-signers, your parents are not obligated to live with you; in fact, some landlords require your co-signer to be someone who owns property or owns a home in order to ensure that they can comfortably step in and pay all the rent.
What are the Qualifications for My Parent to be a Guarantor?
Typically, your parents should have a steady source of income and a credit score of at least 700 in order to qualify. This is to ensure that the guarantor has the financial means to pay your rent, if necessary.
Why Would You Need a Rent Guarantor?
There are a variety of reasons why you might need a guarantor, but here are a few of the most common:
Bad or No Rental History
It is difficult to get your first apartment if you have a negative rental history or none at all. Many landlords and property managers pay close attention to such facts in order to determine the type of tenant or renter you are. Furthermore, background checks assist landlords in determining whether you have the financial means to pay your rent.
Poor or No Credit History
Bad credit or no credit history often lowers the chances of scoring a rental property. Typically, landlords require a good credit score of at least 620, but that number varies based on the market and the community.
If you fail to pay, a guarantee or co-signer strengthens your claim to lease/rent an apartment because the landlord will be more confident that the rent will ultimately be paid.
Low or No Income Stream
If you have a low or no income, a landlord or property manager is more likely to reject your application. No sane landlord would let you rent/lease one of their units if they knew you did not have a steady source of income. Also, people that are self-employed may have a hard time proving their income, which may require a co-signer in order to be approved. Learn how long does it take an apartment to approve you, here.
On the other hand, a guarantor will increase your chances of getting the apartment because the landlord will be confident that someone else will pay.
Drawbacks of Having a Co-signer
When it comes to renting an apartment, having a guarantor or co-signer has a lot of advantages, but what are some of the drawbacks? Let's find out!
It Can Strain or Damage Relationships
Most co-signers are typically close to the tenant, in terms of relations. With that said, if the tenant does not pay their rent on a regular basis, the co-signer will ultimately be responsible. Furthermore, if the cosigner fails to pay the rent, this might harm both the cosigner's and the tenant's credit scores.
One late payment can blow a good credit score, and raising it back up takes some time. Although the legally required financial responsibility falls on the cosigner if the tenant defaults, the relationship may be jeopardized as a result of the overdependence.
Property Owners Have the Right to Decide Who Needs a Co-signer
While having a co-signer on your side can help you get your first rental unit, the sad reality is that most landlords will decide whether or not to grant your request.
Some landlords prefer not to accept cosigning at all since they do not want to deal with the headaches that come with having someone else pay their tenant's rent. This in no way violates any tenant rights.
What if My Guarantor Falls Behind on Payments?
The first thing that will happen is that you will be hit with late fees for failing to pay your rent on time. In addition, if you do not pay your rent/lease on time during the grace period, the landlord will most likely serve you with an eviction notice and initiate a lawsuit against you and your guarantor, which can affect the credit scores of both parties.
That said, before you choose a guarantor, make sure they can afford to pay the lease amount if you fail or fall short of the required rent at any moment.
What to Look for During Your Apartment for Rent Search
If you want to get the best rental unit in your desired area, there are a few things you should watch out for on your apartment tours.
Pet-Friendly Communities
Finding a pet-friendly community is a top priority if you are a pet owner. We encourage you to talk to some residents to get their views on the pet-friendliness of the community before signing the rental agreement.
Furthermore, most communities have pet restrictions; find out if your pet qualifies to live there, particularly in terms of breed type, by reviewing the apartment pet policy. If your pet is among the restricted breeds, look for alternatives.
Strategically Located
Many things will be affected by your apartment's location throughout your stay, so you must choose solely based on your needs. For example, it is not a good idea to live too close or too far from your workplace or school. You should also consider the traffic congestion and other factors before making a final decision.
Living far from your place of work, as well as amenities like shopping centers, restaurants, and hospitals will cost you more in transportation.
Plenty of Amenities
Apartment amenities can really make or break your living experience. It is important to find an apartment community that offers amenities that align with your lifestyle. It is not enough to just have luxury features and a good location; you want to make sure you have all the necessities you need, from parks and libraries to grocery stores and fitness centers.
Noise Levels
A neighborhood can be a good indicator of what your living experience will be like. In fact, for many people, having a quiet neighborhood to call home is the ultimate goal. That said, a quiet and peaceful neighborhood can make you feel more at ease and less like you are living in a busy city. Learn how to deal with noisy apartment neighbors here.
Break-Lease Clause
A break-lease clause is an important element to be considered before signing the lease agreement. It indicates the duration of time for which a tenant has to give notice of his intention to break the agreement. Read more on how to break a lease without penalty here.
This can be done if the tenant wishes to move out of the property because he has found another place, needs a temporary relocation, is going abroad for an extended period, or has any other valid reason. With that said, ignoring this section in lease agreements could jeopardize your relationship with your landlord if you want to leave before your lease term expires/lease ends. However, if you know there is the possibility that you will be moving out sooner rather than later, consider signing a month-to-month lease to make the transition easier.
Natural Lighting
The way your own apartment is naturally lit can have a big impact on your utility bills. Learn more about what bills to expect when renting an apartment here.
Windows can let light in during the day and open up the space, but closed curtains can keep out light and heat at night. If you are lucky enough to live in a place with windows on every wall, you may want to explore blackout shades as well.
Spacious Apartment
Many people begin their apartment for lease search with the goal of finding a property that checks all of the boxes on their "what to look for when renting an apartment checklist."
The truth is that finding a spacious apartment can be tough. The struggle is often between finding one that is affordable and one that has enough space. The answer to this problem can be found in many ways, but possibly the most seamless is using online real estate websites, which provide listings of apartments for rent/lease based on your preferences. Find our top five websites to search apartments for rent here.
Cost of Living
When looking for an apartment, the cost of living is often a major factor in determining the best option. In addition to being able to afford the rent/lease and utilities, you also need to be able to afford the food and necessities in that area. For instance, it is important to consider how much you are spending each week on groceries and whether there are any grocery stores nearby.
Final Thought
Many times, the person leasing the apartment wants to be able to live there without their family or needing roommates. If they cannot obtain a lease themselves, however, they can ask a parent or other guarantor to sign on their behalf.
The truth is that one of the most common myths about leasing an apartment is that you need to be at least 21 years old. This is not true, and many people in their late teens or early twenties can lease apartments if they have a guarantor.