Finally, you've decided to move out of your parent's house, or maybe leave your dorm room days behind, in search of your very own apartment. It's exciting, right?
With that said, one question keeps ringing in your head, what next?
Just the fact that you're doing something for the first time is enough to raise your blood pressure.
When you realize that all responsibilities that come with moving out to an apartment for the first time suddenly fall on you, it is easy to feel completely and utterly overwhelmed.
Luckily, you're not alone in this challenging endeavor. Many people went through the same quest and overcame what, to you, now seems like a nightmare.
To make the transition as smooth as possible, we put together a checklist, along with everything you need to know about how to rent your first apartment for a successful move.
What to Know for First Time Apartment Renters
Becoming a first time apartment renter is a big step in life, perhaps even the most exciting time in your life.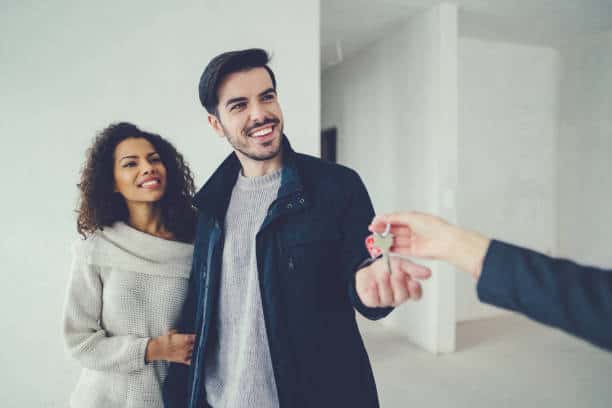 Even though renting an apartment for the first time comes with a set of responsibilities, you get to enjoy the freedom to pick and choose the perfect place for you.
Apartments have their fair share of challenges. For example, as a first time apartment renter, you might have to deal with unreasonable landlords or neighbors, high rents, poor quality, pet policies, and much more.
It's one of those parts of life that no one prepares you for, but luckily reading other's experiences will give you a glimpse of what to expect.
Now, where do you start? Let's find out!
Tips for First Time Apartment Renters
Why is an apartment such a good option?
First of all, you're on your own. It makes no sense to rent a house.
A house comes with a much bigger responsibility than an apartment. If renting an apartment can be overwhelming, renting a home can be much worse.
The difference in maintenance and utility cost are just some things that position apartment renting as the ideal choice for a first time renter.
Here is a list of the most important things to look for when renting an apartment for the first time.
Determine Your Budget
It is easy to overestimate how much you can spend on rent, and other necessities, as a first time renter. Bottom line is, figure out the rent you can afford.
The general recommendation is to spend about 30% of your gross monthly income (before taxes) on rent. If you earn $5,000 per month, your rent should be $5,000 x 0.3, or about $1,500.
This will help you manage your finances and avoid defaulting on your rent. However, this isn't always the case in cities like New York, Boston, or San Francisco. Often, these cities have a high cost of living.
A regular apartment within your budget, could double or triple in San Francisco, New York, and Boston. As such, aim to keep your housing expenses to 30% or under.
A wise thing to do is to team up with a roommate to offset apartment costs. This will ease the burden and give you room to focus on other important stuff.
Perhaps, using a rent calculator will give you a better idea of how much you can spend on the apartment for rent.
All you need to do is fill in your desired location, number of rooms, and your monthly gross income, and the rent calculator will do the rest.
Decide if You Need a Roommate
With a tight budget, it can be overwhelming to rent an apartment on your own. With that said, things can be easier if you have a roommate to share the cost with and save money.
If the housing expenses run over the recommended 30%, consider finding a stellar roommate. However, before jumping to find one, consider the pros and cons of having a roommate. If you're satisfied with the decision, go ahead and search for one.
Before settling for a roommate, it is essential to establish what makes a compatible roommate.
Here are some ideas on how to go about it:
Do you care if a roommate comes with a pet? Will you need a pet-friendly apartment?
How long can guests stay, and how often?
Whose name will the utilities be in, and how will you collect payment from the other?
Who will buy the furniture, and who will take it with them if someone moves out?
While you will want to focus on yourself, it is crucial to find out what makes your roommate happy, and what doesn't. That will go a long way to striking a long-term friendship of understanding.
Choose Your Apartment Community
Choosing your apartment community is probably one of the most important things as a first time apartment renter.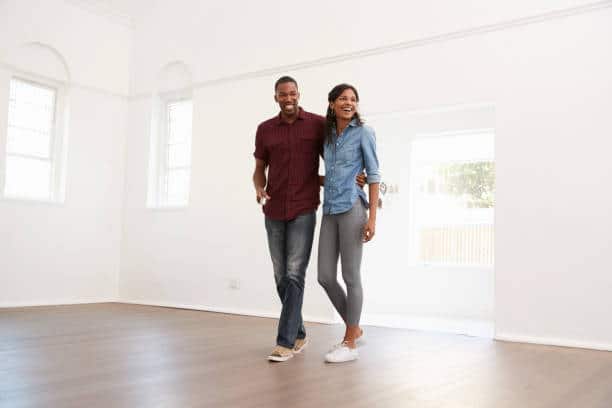 Your apartment complex location will affect so many things. For example, it will determine how much you will spend on transportation to and from work.
Here are few tips to consider when choosing your apartment community;
Pick a location that is close to your workplace
Consider the distance to shopping centers, recreational places, among other things
Is the place safe for you? What's the crime rate in the neighborhood?
Is your dream location more expensive than surrounding neighborhoods?
Are you going to use public transportation?
Asking for recommendations will also go a long way to helping you find the perfect neighborhood. You also want a place where you can access public transportation easily.
Think About Amenities
When searching for an apartment, as a first time renter, you may believe that your search criteria will initially boil down to the number of bedrooms and monthly rent. Well, that's not all.
When you are on an apartment hunt, prioritize the amenities that are most relevant to your lifestyle. Consider what will make your apartment more pleasant, and what isn't worth the extra rent money or facility fees. These are things you need to worry about.
If you love working out, a gym in the building would be a significant asset to you. If that's not your thing, but a weekend swim is, a rooftop swimming pool would be far more appealing.
Apart from the shared amenities, think about the amenities you want inside the apartment. An updated kitchen, outdoor space, like a balcony, oversized bathroom off the master bedroom, and large closet space are all worthwhile amenities to consider.
Give Yourself Time to Search
Apartment hunting is not a walk in the park. Give yourself time to find the perfect apartment. If you're in a hurry, you'll be a potential victim of a leasing scam.
Many ask: how long does it take before finding a suitable apartment?
Well, there's no exact answer to that question. You can spend a day and spot an apartment that has everything you need. Love at first sight!
You could also take days, weeks, or even months before finding what you are looking for. In other words, how long it takes depends on your set of preferences, among other factors.
If you are planning a move to a new city and don't have time to make a trip to apartment hunt in person, worry not! Nowadays, renting an apartment sight unseen is entirely possible, thanks to virtual 3D tours.
Know How to Spot Apartment Leasing Scams
An estimated 43.1 percent of renters have encountered a listing they suspected was fraudulent, and 5.2 million U.S. renters have lost money from leasing fraud.
Statistics suggest that first time apartment renters are more likely to experience leasing fraud, with 9.1 percent of 18 to 29-year old renters having lost money on a leasing scam, compared to 6.4 percent of all other renters.
An estimated 88.3 percent of renters who have lost money from leasing fraud changed their search approach for rentals. For example, some conduct additional research, and others make sure to visit properties before paying.
You need to worry about leasing scams. Always be on the lookout to avoid falling victim to leasing fraud.
Budget for All Upfront Costs
A first time apartment renter doesn't always realize the full scope of all upfront costs. For this reason, you will want to budget ahead of time.
Typically, you'll need a security deposit, first and last months' rent, and an apartment application fee.
For the apartment application, landlords often charge an application fee so they can run a background and credit check on you.
If you have a pet, then consider budgeting for that as well. Most apartments will ask for a one-time upfront fee, plus a monthly pet leasing fee.
It is important always to read the pet policy so you get the full scope of the apartment regulations. For example, how many pets are accepted?
Utility Cost and Other Expenses
Paying a security deposit, along with first and last month's rent, is not the end of the cost. Consider other expenses, such as pet rent, utilities, parking, repairs, and new furniture.
Utility bills can vary, based on location and the season. You should also factor in any subscriptions, the cost of transportation or gas, food, gym memberships, and any other ongoing expenses.
Your goal is to find an apartment for rent with utilities included, at the best prices.
Space and Storage
Most apartments have less space than family houses. As such, you need to get creative in order to get all of your stuff stored neatly.
Utilize all the nooks, get a bed with drawers, and consider a minimalist design. Minimalism in apartments is trending. Getting so much from so little is incredibly satisfying.
Not only will your open-floor apartment look modern and stylish, but it will cleverly camouflage your storage.
Renters Insurance
Sometimes the unthinkable happens! Suppose it does and you didn't have a plan, you're likely to be in big trouble.
For this reason, it is essential to have renters insurance. It's a lifesaver.
With a tenant's insurance policy, you will not worry about your belongings should the worst happen.
In some apartments, this renter's insurance may come as a requirement. If so, you need to budget for insurance as well to avoid surprises.
What Landlord Will Look For
Landlords often conduct a thorough screening process to establish the right tenant to rent their apartment.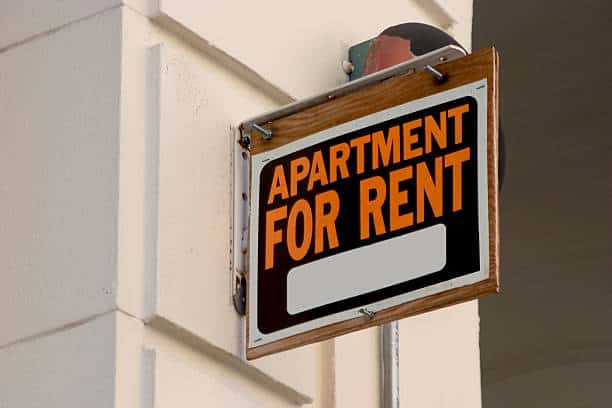 Expect to be asked things like employment history, rental history, credit check, and so on.
On top of the list will be rent payment. A property manager wants to be sure that prospects can comfortably afford the rent, 100%.
Why do they have to ask all of these even though you have money to jump straight in?
Renting an apartment is a business; they will want to get the best candidate with minimal risk.
What does a tenant with minimal risk mean?
Everyone has a unique financial situation. Some people may be recovering from bankruptcy, while others may be repairing a bad bill that plummeted their score.
A bad credit score often indicates the tenant is at high risk, and are likely to default their monthly rent. That said, the landlord will typically choose the tenant with a high credit score, since they paint a picture of an individual with great financial management skills.
What score do you need to rent an apartment?
Generally, you need a good credit score if you want to rent an apartment. A higher score will boost your chances of getting accepted by the property managers.
As a first time renter, you may not have a credit history. If this is the case, now what?
How to Convince Your Potential Landlord to Rent an Apartment
You're not the only one looking for an apartment. As such, you need to put together a good submission that will convince the property manager you're the right candidate.
Here are things you will want to include in your rental application:
Highlight Your Income
If you're earning three, four, or five times the leasing fee, this is the right place to flex it. The property manager will be more at ease if they know your rent payment will be nothing to worry about, having proved a higher income.
As such, you will stand a chance of getting the apartment. You may even want to offer to pay two or three months rent in advance, if you can.
If your income is not that convincing, you will want to find other alternatives. Let's on to the next!
Include a Co-signer in Your Application
A co-signer is someone who will assume your leasing responsibility in the event you're unable to pay.
As a first time renter, using a co-signer will boost your chances of getting that apartment.
A Roommate May Boost Your Chances
A property manager will be more likely to approve your application if you have a roommate to share the leasing expenses.
Include Plenty of References
Many landlords are meticulous when it comes to tenants screening. They go as far as hiring external agencies to screen potential tenants. As such, it is essential to include credible references.
The previous landlord will be one of the best references to include in the application. However, since you're a first time renter, you should not have one. As such, you will want to use your friends and bosses who can vouch for you.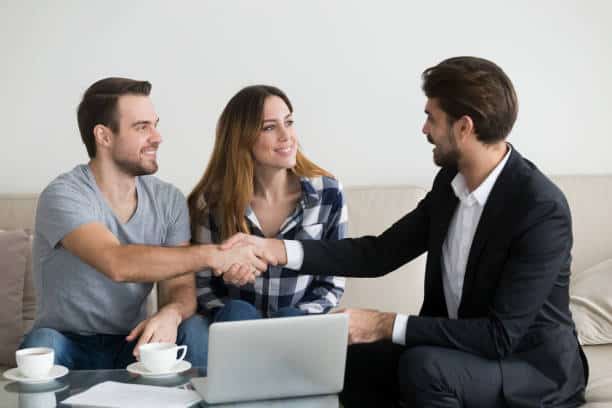 A credible reference will go towards helping get that apartment as soon as possible.
When is the Right Time to Look for an Apartment?
Ideally, you should begin to look for an apartment 30 to 60 days before you plan to move. For example, if you want to move in February, the best time to start your apartment search is December or January.
You want to give yourself enough time to find an apartment, while still searching at the most strategic time.
What is the Best Month to Look for an Apartment?
You want to search for an apartment during months when leasing rates are at their lowest.
The lowest leasing rates are usually found between October and April, particularly after the December holiday season.
During this period, fewer people are interested in moving. For instance, the weather's bad, schools are in session, and so on; so moving out is not preferable for many people during this time.
Individuals renting between December and March typically find the best leasing bargains.
Besides, it's easy to move during warm weather. It's less stressful loading and unloading boxes and furniture when it is nice out.
Renting an Apartment During the Winter Months
Moving during winter might give you a better chance to find an apartment at its lowest rate, since not so many people are moving. With that said, have you considered the drawbacks of moving during this time?
From Thanksgiving to New Year's Eve, it's no secret that you'll be busy chasing down all the delicacies, spending time with your loved ones, and, most probably, visiting their homes.
Finding time to move during winter time can prove difficult.
That said, you will want to think about pushing your move until February, when things have died down a bit.
There will be pros and cons to every season; as such, do your research and establish the best time for you.
You could still compare leasing rates, within the location you want, during any season. It's one way to find the best apartment while minding costs.
What You Need to Know About the Leasing Agreement
Signing a lease is the last stage before moving into your apartment.
As a first time apartment renter, expect to receive a bunch of documents for signing. Whatever you get from the property manager as a signing agreement can be classified as a leasing agreement.
So, what is a lease or rental agreement?
Here's everything you need to know about leasing agreements:
What is a Rental Agreement?
A rental agreement is a contract between the renter and the property manager. It clarifies responsibilities and terms over a set time period.
Both tenants and landlords should protect themselves with a legally binding lease that obligates each party to set terms.
Sometimes the landlords can be casual and easy-going. However, a handshake or word of mouth is not a leasing agreement.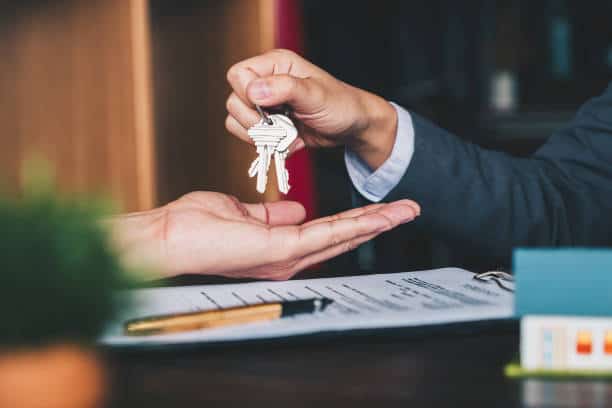 What's the Purpose of the Leasing Agreement
A leasing agreement is a binding document that protects both the tenant and the landlord. It outlines the responsibilities of each party.
Here are some examples of responsibilities by each party:
 Landlord
 Providing safe living conditions
Pest control
Major repairs
 Tenant
Payment dates
Penalties for breaking the leasing agreement
Responsibility for specific damage to the apartment
Before signing and renting your first apartment, you should have a clear picture of your responsibilities and the landlords.
If you feel unsatisfied with some clauses of the lease, ask questions to clarify from the property manager or landlord.
Whether you're a first time apartment renter or an experienced renter, reading and understanding all clauses of the agreement are necessary. Anything in the contract can be used in legal settings or when resolving disputes.
What's the Difference Between a Lease Agreement and a Rental Agreement?
Many people use lease and rental agreements interchangeably. It may sound the same, but the meaning is different.
The main difference between the two lies in the length of the agreement.
Leases are a long-term, contractually binding agreement. They're typically six months or 12 months, but they may be even longer.
The lease agreement has its perks and drawbacks. For example, once you sign a lease agreement, a landlord can't decide to suddenly raise your rent or decide you can't have a pet after all.
Among the drawbacks, as a renter, are that you can't just up and move without paying the penalty. In this case, the landlord will recoup some money.
If you're looking for a month-to-month lease, you should probably sign a rental agreement. A standard leasing agreement can also be changed every month, as the landlord sees fit.
With a month-to-month lease, you'll have the flexibility to move whenever you want, at the end of the month. However, the rental agreement also gives the landlord the window to raise the rental fee.
Even though the leasing agreement gives you the freedom to move at the end of the month, it's still necessary to give notice. Typically, a 30-day notice is required from either party in case of any changes (moving out, changing lease terms, etc.).
Unlike a lease, a rental agreement usually renews automatically at the end of 30 days.
Things to Look for in Your Leasing Agreement
Lease agreements can vary, based on the apartment. However, there are some key things that you might want to look out for.
Here are some of the things to check out:
Lease Length and Monthly Rent
The monthly rent and lease length are some of the most critical pieces of information in an agreement.
You will want to find the part that provides some guidance on how to break a leasing agreement. It's normal to find a job elsewhere while in the middle of a lease term.
If you think you may need to move suddenly, for any reason, a month-to-month leasing agreement may be a better choice.
Security Deposit Details
A security deposit is mandatory, and such information is found in the lease. It is your first apartment, but there will come a day you will need to move out again.
With that said, it is wise to find information that offers guidance on how to get your security deposit back.
Read about the circumstances when the deposit becomes non-refundable.
Pet Policy
As an animal lover, finding a pet-friendly environment can be challenging at times. Even though the new apartment accepts pets, reading their pet policy is wise so you familiarize yourself with it.
Find out about the pet rent and pet deposit as well.
Utilities
When leasing your first apartment, you need to get everything right with the utilities.
Your leasing agreement will outline all the utilities you're responsible for, along with which utilities the property manager will take care of.
Final Thought
Renting your first apartment comes with a lot of responsibilities. It's only fair to say you need adequate preparation to have a smooth transition.
From figuring out the location, to how much rent to pay, to logistics, and the leasing agreement, you need to be aware of everything before making that final step of signing the contract.