If you are on a tight budget, determining whether to "rent or buy" is pretty straightforward. Rent a place to live! With that said, once you have decided to rent, you will have to choose between renting an apartment and renting a house.
It is difficult to decide whether to rent an apartment or a house because both provide a variety of advantages and disadvantages. For example, a house offers you more privacy while denying you the opportunity for convenience. In contrast, an apartment may provide you with less privacy, while providing convenient access to downtown, public transportation, and shopping malls, among other things.
Renting an Apartment vs. Renting a House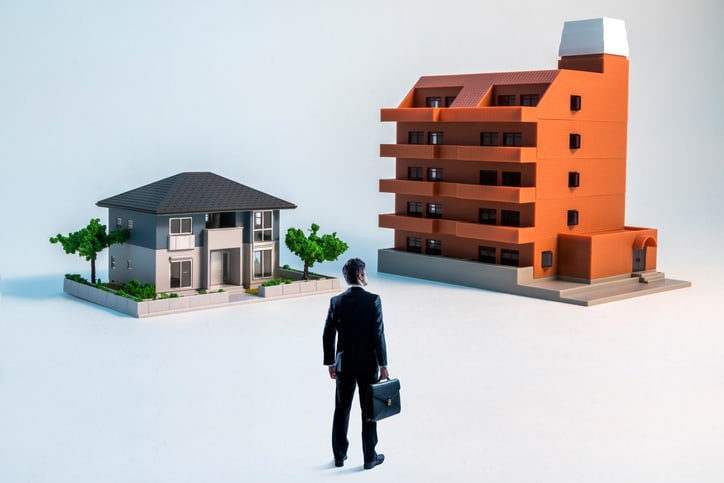 Generally, some expenses are common when moving into both an apartment and a house, such as a security deposit, first month's rent, and renters insurance.
If you want to know which option is ideal for you, you need to understand all of the advantages and disadvantages of renting apartments and houses. That way, you can weigh the benefits and drawbacks against your preferences and financial circumstances/financial situation.
With that said, to help you make an informed decision, we have put together an informative article that compares the positives and negatives of renting an apartment vs. renting a home.
Pros and Cons of Renting a House
A house comes with several perks, along with some downfalls. So, before you decide on renting a house, here are some of the pros and cons:
Pros of a House Rental
More Privacy
When compared to apartments, a house, on average, provides more privacy. Houses typically have greater outside spaces when compared to apartments. As a result, it is much easier to enjoy quiet time in your own home than in an apartment.
Furthermore, unlike apartments, where it is common that just a wall separates tenants, houses provide a reasonable space between you and your next door neighbor, thus, reducing the likelihood of being disturbed by noisy neighbors. Read more on how to deal with noisy apartment neighbors here.
Spacious
Homes are often larger than apartments, giving you more square footage to deal with. This feature allows you to have much more opportunity to style and decorate your home as you see fit. For example, a house can have enough storage places for all of your belongings, saving you money on storage rental.
Furthermore, houses give you more flexibility in terms of what type of furniture you may purchase, whether large or small, because the larger floor space will allow you to do so. In contrast, apartments will give you a smaller floor space to work with, limiting the type of furniture you can work with. Learn here on how to arrange furniture in a small living room apartment.
Family Living
Single-family housing is often the ideal environment for a growing family. You will not have to worry about your children upsetting your neighbors if you live in a house since you typically will have plenty of backyard area for them to play.
Potential to Purchase
Another advantage of renting a home is the possibility of persuading the owner to sell it to you if you like it. It is common for families to develop attachments to the homes in which they live. If this is the case, it's simple to work out a rent-to-own home lease agreement with the property owner to pay off the purchase price gradually (monthly payments) until you eventually own it outright.
On the contrary, if you reside in a great apartment, you may find it impossible to realize your dream of purchasing apartment units from the property manager.
Potential to Sublet a Room
During your rental period, you can sublet the room(s)/extra space you do not use. If you have a small family, renting a room could be a good way to supplement your income while lowering your monthly rent.
Please note that if you are thinking of subletting a room, make sure the person you are dealing with is someone you can trust. If choosing this route, it is always a good idea to rent to a family member or a close friend who you know well.
A Place for Pets
Breed restrictions are common in apartment communities (usually stated in the apartment pet policy) because landlords wish to protect other residents from dangerous pets. On the other hand, renting a house means, usually, more freedom to live with any dog breed you desire. Also, your pet will have enough backyard to run around, unlike in apartments where they are confined to a smaller space.
Cons of a House Rental
More Chores
One of the most significant disadvantages of owning a home is the increased responsibilities. Since a house is larger than an apartment, cleaning will take longer; compared to cleaning your apartment, which can take significantly less time.
Think about this, you move into a house and discover you need to mow the lawn or risk making your home's private outdoor space messy. So, you can either spend more time mowing the lawn or hire lawn services, which is an additional cost.
Higher Rent Prices
When it comes to rental pricing, houses are more expensive than apartments. It costs money to enjoy privacy, along with the extra space that houses offer. If you are on a tight budget, renting a house may be out of the question; nevertheless, renting an apartment may make more financial sense.
Higher Utility Costs
Houses have a higher utility cost than apartments. The more space/more rooms you have, the more energy you will ultimately need to cool and heat your home. So, if you are thinking about renting a house, prepare to pay higher utility costs, along with other associated costs.
Further Away from Metro Areas
It is difficult to find a house closer to a metro area, as opposed to apartments, making it more difficult for tenants to access amenities. This does not mean that you will not be able to find a home closer to major cities, but the housing market prices them significantly higher than ones located in suburban neighborhoods.
Landlord Experience
The landlord experience is another disadvantage of home renting. Apartments are frequently maintained by professional property management companies that are more competent and adept at customer service than most individual landlords who rent their homes.
Pros and Cons of Renting an Apartment
Apartments offer benefits and drawbacks as well, so weigh them before renting one:
Pros of an Apartment Rental
Lower Rent Prices
Renting an apartment is usually less expensive than renting a whole house. Furthermore, you can get a fairly spacious apartment while paying reasonable rent.
Lower Utility Costs
Since many apartments have limited space, heating and cooling are less expensive than houses. That said, rent a house if you know you can handle the additional cost of paying a higher utility cost.
Favorable Walkability
Most apartments are in the heart of a city, putting them within a walking distance of a shopping mall or restaurant. On the other hand, most houses are located in the suburbs, requiring you to drive to the city or rely on public transportation.
More Flexibility
Apartments can be the best option for you if you have a job that requires a lot of movement. Since you naturally would have fewer home items when living in an apartment, due to the lack of space, moving out is much easier.
On the other hand, houses typically contain larger spaces, thus more belongings, implying that you will pay more on logistics while relocating.
Variety of Amenities
Several amenities are available in apartment buildings. These can include an on-site gym, a swimming pool, a clubhouse, and even play areas for the children. Furthermore, unlike houses, where you are confined to your backyard and secluded from your neighbors, apartments provide a community living environment.
Less Maintenance
When it comes to apartments, the landlord is frequently responsible for major maintenance, and all you have to do is submit maintenance requests. In a house, you are either responsible for maintenance, or your landlord will take longer to get the repairs fixed. For instance, if your plumbing breaks, you may have to contact a plumber yourself to get the problem fixed in a timely manner.
Better Landlord Experience
Professional property managers are frequently in charge of apartments (apartment management). On-site managers are also common, which means you may contact them at any moment for emergency assistance. A house landlord, unlike an apartment landlord, may be out of reach, leaving you with no one to look after your needs.
Wondering what is considered emergency maintenance in an apartment? Find out more here.
Cons of an Apartment Rental
Nuisances
Neighbors at an apartment complex are often very close to one another, which can cause all sorts of problems. From noise complaints to burglary and even disputes over personal property, these issues have been attributed to the close proximity of living spaces.
If you do experience these issues from neighbors, you may want to consider installing heavy curtains, placing large furniture in strategic places, and using a fan to cover up any noise that might escape.
Restrictions
Frequently, apartments have a set of rules that apply to all apartment dwellers. Although the rules and regulations are in place for the betterment of the community, some of them may conflict with your tastes and wishes.
Consider this scenario, you have been living with your pet at home, but when you move to an apartment building/apartment community, you discover that the breed of your dog is not permitted in the community; how unfortunate! This would leave you the choice of either getting rid of your furry friend or finding a new place to live.
Parking
Another major issue with apartments is the lack of parking. You will always struggle to park your car after work if you don't have an allocated parking area. A house, however, typically provides private parking spaces for your car(s).
Less Privacy
Unlike renting a house, where you have a good distance between two neighbors, the distance between you and your next apartment neighbor is very close.
What to Look for When Renting an Apartment
Make an apartment list of non-negotiables, such as in-house laundry, more living space, and a pet-friendly neighborhood, among others. Also, do a thorough inspection of the unit prior to moving in. Double-check that the apartment's walls are painted and that the door and windows locks are in working order.
It is additionally crucial to ensure that the community is well-kept by the property management team. Every person has the right to live in a comfortable environment. Furthermore, the landlord must not discriminate against you or anyone else on the basis of color, race, national origin, familial status, handicap, sex, or any other protected characteristics under applicable laws.
As a tip, when looking for an apartment, consider using websites to search apartments for rent, such as real estate websites, to narrow down your options. For example, using apartment listing sites like clfapartments.com can assist you in finding your ideal apartment quickly. Learn more tips for finding an apartment here.
Conclusion: Renting an Apartment is the Better Option
Renting apartments offers several benefits that houses do not. For example, you can rent luxury apartments and pay less in utilities and rent, all while enjoying additional amenities, such as a swimming pool, playground, clubhouse, and gym, among others.
With that said, apartment living allows you to save more money, too. With savings, you can spend more on things that make you happy, such as vacations.
Furthermore, if you plan to buy a home one day in the near future, renting an apartment may allow you to save for a downpayment and qualify for a mortgage sooner. Just keep in mind that if you do not have a stable source of income, a mortgage payment can be burdensome. That said, plan to buy a home only when you are stable financially.