Have you ever done an apartment tour in the real estate industry? If yes, how long did it take you? If not, you're about to find out how long they should take.
The estimated time for touring the apartment includes getting the feel of the apartment by seeing the unit and the surrounding neighborhood.
It would, therefore, help to research the apartment or neighborhood beforehand and look out for any potential scams.
When you prepare well for your tour, the apartment renting process will proceed smoothly. Here, we discuss more on apartment tours and how long it takes.
How Long Do Apartment Tours Take?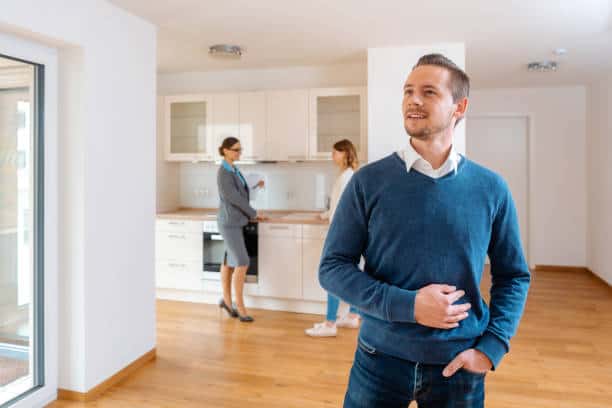 Before we focus on the length of an apartment tour, let's first consider a few things to look for while on tour in order to get a perfect apartment.
What to Look for During an Apartment Hunt or Tour
When you decide to tour an apartment, you need to look for any red flags and damages.
Such flaws in an apartment aren't only inconvenient, but also could be dangerous. You wouldn't want to sign an apartment lease and meet an unpleasant surprise later.
Water, Electricity, and Appliances
Plumbing and electricity are critical requirements for modern living and might be inconvenient if they don't function properly.
During your apartment tour, it would help to test all the light switches in the rooms to ensure the electricity is properly working. Inspect outlet covers and fixtures to ensure they are firm and in place.
If a light doesn't work, you can figure out whether it's a deeper electrical problem or a burned light bulb. This could be the best time to test power outlets. Plug in a small device, such as a phone charger, to see whether it charges or not.
You can also turn on the sinks in the apartment bathroom and kitchen. Ensure that the taps receive both cold and hot water and that the water pressure is acceptable.
It would also help to check the temperature and water pressure in the apartment shower and ensure the showerhead is attached firmly to the wall. You can flush the toilet as well to test whether it's functioning properly.
Some apartments avail amenities such as stoves and refrigerators. You need to open the freezer and refrigerator to ensure the light turns on inside and that it is cooling.
You also need to test burners on the stoves, but keep in mind that the landlord might have unplugged the stove to conserve energy. If that is the case, you can ask to plug them in for a moment just to test.
Ensure that the thermostat in the unit is operational. Ask whether there is central air conditioning too. If there is no central air conditioning, ask the landlord whether they provide a window AC unit, or whether you'll have to bring one with you.
Check if there are ceiling fans and whether they're operational. Ensure that the ceiling fans don't shake or wobble too much when you turn them on.
Check for Security and Safety Concerns
Apartments security involves a lot of things. The more secure an apartment is, the more safe your family will be.
Here, you need to check the doors and windows. This is a critical thing to check since any defective lock or flimsy door can expose an apartment building to break-ins.
Apart from doors and windows having functional locks, they should be able to close all the way. If possible, windows need to have screens too.
Gas leaks and fires are other dangers in an apartment to be concerned about. Here, you need to check for carbon monoxide detectors, a fire extinguisher, and a smoke detector. Some apartments might have an above sprinkler system instead of a fire extinguisher.
If your potential apartment has none of the above things, you need to ask your property manager or landlord to install them before moving in.
It's also the perfect time to inspect floors, ceilings, and walls for any signs of water damage. Peeling paint, a musty smell, warped wallpaper, and discolored patches are some of the signs of water damage.
Remember, water damage can lead to mold or cause structural damage, which presents a health hazard.
Apartment Complexes & Neighborhoods
When you decide to tour an apartment, it will help to look at the whole apartment complex, not just the individual unit. Ask the landlord or property manager if a laundry room is available or other shared amenities.
Most apartment buildings have dedicated parking lots for their tenants, either in a covered garage or outdoors. Don't hesitate to ask the landlord whether the apartment provides an assigned parking spot and if you'll be required to pay a parking fee on top of your monthly rent.
You also need to walk around the neighborhood to see what it looks like. This will give you a clear picture of the area regarding the available facilities, such as roads, schools, grocery stores, and hospitals.
This can be a good time to take note of the conditions of the surrounding buildings and the streets. If possible, research on the crime rate in the area too.
What if You Find a Problem?
If your apartment inspection is positive, but you come across one thing that requires fixing, don't be so quick to reject the apartment outright.
In such a case, the best move would be to mention the problem to your landlord. There is a high chance they aren't aware of the problem and will try everything possible to fix it before the move-in date. This is also a good way to check on their response time to issues.
It's the responsibility of property managers to take care of their property's condition and be willing to fix any arising problems.
If the property manager isn't willing to repair any problems in the apartment to accommodate you, this is a good sign to go ahead and look for another unit.
Property Managers Being Part of the Tour
When you decide to tour an apartment, you're also meeting the landlord or property manager for the first time. During the tour, you can learn how the property manager operates the business.
This is the time to note the property manager's behavior. Are they accommodating and friendly? Do they arrive early for the tour?
Is the property manager willing to answer your questions, or are they offering elusive and vague answers? A landlord or property manager needs to be professional during the tour.
The property manager is the person you'll contact in case of any problem in the apartment. They're also in charge of any maintenance requests in the unit. It would, therefore, be good to see that they are trustworthy and helpful in all possible ways.
Are You Being Scammed?
Even before you tour the apartment, ensure you aren't dealing with a scammer. Do thorough research to ensure you're engaging a trustworthy landlord.
The Federal Trade Commission highlights some types of rental listing scams:
Phantom Rentals
Phantom rentals represent fake listings for non-existent locations. A phantom rental scam tries to extort money from people upfront before they realize that the listing is fake.
Scammers achieve this by promising amazing amenities and low rent that seems like a bargain. You should be aware of apartment listings that appear too good to be true.
Hijacked Ads
Scammers sometimes make legitimate listings, but then repost them on a different site with altered contacts.
Even though the property is real in this case, the person you contact isn't the rightful owner. Since the scam artists don't have direct access to the apartment, they try to get an advance rent or security deposit, without giving you a chance to tour the unit.
It would, therefore, be important to avoid paying the landlord any money without first touring the apartment. The landlord or property manager should not force you to pay anything until you sign a lease or some sort of security deposit document.
This is the reason why it's crucial to tour an apartment. A real landlord or property manager has the keys to the apartment and will be more than happy to show you around.
Red Flags to Look Out For
If the apartment owner is forcing you to pay either the rent or security deposit before you've signed the lease or any documentation, they're scamming you.
A scammer can also request you to make unusual payment forms, such as wire transfers. Since wire transfer is similar to a cash payment, you won't get your money back after sending it.
Avoid sending money through wire transfer or any payment method that sends money overseas.
You must be suspicious if the manager isn't willing to talk over the phone or meet in person to show you the actual unit.
If the property manager is difficult to contact, it's a sign of a scam. It's also a sign of a poorly managed apartment. In such a case, even if the apartment is genuine, a landlord who can't respond now won't do so in the future when you become a tenant.
If the property manager or apartment owner isn't within the country, you should get worried. Avoid landlords that arrange for you to pick keys up from an associate.
This is why we recommend that you visit the apartment in person and sign the lease or some form of documentation before making any payments. Never allow the property manager rush you through the tour.
Reporting a Scam
Suppose you suspect a listing is a scam or fall prey to a scammer. In these cases, you should immediately report to the relevant authorities, including the FTC (Federal Trade Commission) and local law enforcement.
The Federal Trade Commission is a federal agency that protects legitimate businesses and consumers. It's tasked with preventing unlawful and unfair business practices, such as rental scams.
By reporting a scam, you'll get a fake apartment listing from the rental industry and protect other shoppers. The FTC has a page on its website where you can report fraud.
The site will guide you through filing the report and provide the resources to avoid fraud.
The Federal Trade Commission shares your report with over 3,000 law enforcers in the U.S.
Why an Apartment Tour Takes Longer
When you have an apartment tour, it might be the first time you see the unit. In many cases, the tour is a preview of how the landlord runs his apartment.
Generally speaking, a successful apartment tour can take about an hour. This estimate involves the time you'll take to see the unit, along with the apartment building, and experience the surrounding neighborhood.
Sometimes, the tour might take more than one hour. This can be attributed to the longer periods taken to research potential apartments.
During the touring date, you'll have to keep a keen eye on security and safety. You'll also want to take more time inspecting the spoiled wallpaper, peeling paints, musty smell, and discolored patches.
There are times you might spend more time inspecting the rest of the property and the neighborhood. This might take more time than the expected one hour.
Conclusion
When you plan a real estate apartment viewing, ensure you set aside at least an hour for a thorough inspection.
Don't allow the landlord to rush you through the tour. Remember to inspect critical things, such as lighting, water, and electricity.
You also need to take care to avoid scam artists. If you suspect any scam, report to the relevant authorities.
Always tour an apartment before signing the lease and making payments. You can also involve leasing agents through the process. A leasing agent will help you get the best apartment at an affordable price.