Apartments are a great living option, but they might not always cater to your needs. Many young couples, small families, and individuals opt for apartment living due to financial reasons. Some may also go for apartments due to their convenient location, safety factors, and overall manageability.
Of course, there are a few glaring downsides to living in an apartment, with the relatively limited floor space is probably at the top of that list. Apartment dwellers, especially those with a studio apartment, usually have to make do with a small space. Still, there is an ongoing trend of living small, which means making the most of whatever space we have.
Can We Extend the Living Space in an Apartment? 
The small spaces in an apartment may not leave much wiggle room, but it's amazing how much you can tweak to maximize space in an apartment. Some places might consist of just one room, while others may not allow for many furniture pieces. Apartment dwellers usually have to look for ways to save space.
While storage units and practical home decor can go a long way, why not transform your living room into a whole new bedroom? A living room space is usually large, but it may not always be of use. Plus, turning that room into a bedroom could help you accommodate everyone much more easily.
How to Turn an Apartment Living Room into a Bedroom
The living room space of your apartment can be both a bedroom and living room. It might be possible to create separation using a temporary half wall or room divider. However, the outcome might end up looking a bit cluttered if there isn't some careful planning beforehand.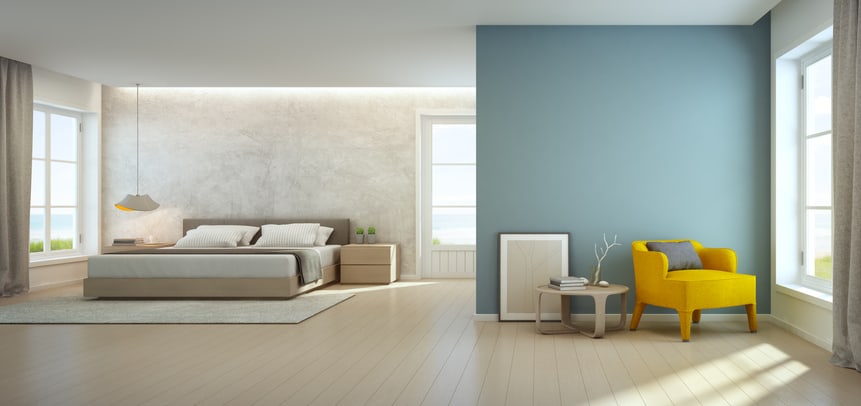 First-time apartment renters may have to start getting creative, but they might be surprised as to what their space could hold! In lieu of hiring an interior designer, here are some tips on getting a whole bedroom out of that small space!
1. Envision What You Want with the Living Space
Before breaking out the room dividers or turning any room into a bedroom, stay realistic and envision the required result first. It's all very well to imagine a giant projection screen in your living room with a load of throw pillows and plenty of snacks, however this is the time to get practical and actually work out what you need for the living room and why.
Consider the Square Footage You're Working with
The area of your living room is the most important factor here. How much square footage do you need for an apartment bedroom? Do you have enough space for a standard twin style bed or will you have to spring for a built-in trundle bed?
Make a list of all your priorities, such as do you need a home office? Do you need space for your workout equipment? Will there be enough room to have company over if required?
Your living room can hopefully work for any kind of lifestyle, but planning is essential. Of course, you also want to make sure not to have any changes that might cause problems with what is considered emergency maintenance in an apartment.
Consider the Intended Layout of the Living Room
You might be able to do with a living room in the daytime, only converting it to a bedroom in the evening. On the other hand, it may also be possible to combine the bedroom and living room. This way, you can stick with the layout and establish a routine around it. The better choice will depend upon your requirements, lifestyle, and need for either type of room.
Consider your Intended Budget
When you've made the decision to have a certain layout and know how much square footage you have, start planning the budget. The change may not cost much at all, but it does help to have a certain amount set aside for room dividers, a wall bed, or some paint to separate one part of the living room for your sleep.
2. Maximize Your Natural Light
You don't want the living room to seem stuffy or cramped. Along with trying to go as minimalistic as possible, it's good to have the maximum amount of outside light. You don't necessarily need huge windows for this. Here are some simple steps to start with:
Do away with heavy, dark curtains or other draperies that can make the space seem gloomy
Go for light curtains or blinds to let the sunshine in and lend an airy look to the whole room
Consider having glass or mirror dividers between the living and sleeping areas
Make sure that no room divider blocks any area from getting at least some natural light
3. Go for Light Colors Whenever Possible 
A light, refreshing color will liven up any space. Since you're in a small living space, go with what the professionals advise and choose pastel colors for the walls and ceiling. It's also better to choose the same shade for the whole living room. You may, though, want to have a different color to set a certain space apart.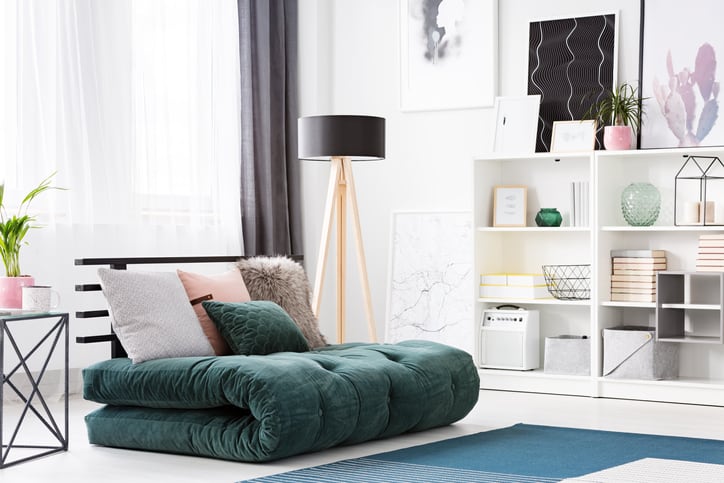 Yellow, light blue, light gray, beige, and white are all good options for making a multifunctional space. They might seem a bit boring at first, but that's where your designing and detailing come in.
Choose home decor that showcases your style and taste; hang up colorful rugs from your travels, display your favorite books, etc. There's nothing like a touch of one's unique personality to make any living room both practical and aesthetically pleasing.
4. Change It Up Using Room Dividers
A room divider will instantly turn that living room into two separate spaces. There are several combinations and choices to work with, so take your time and consider them. Some of these may include:
Glass sliding doors

for a modern look that won't compromise on light or space
Short bookshelves to have a semi-private space that you can also use as a bedside table
Tall bookshelves for proper separation as well as storage area
Print screens for saving space and adding an artistic touch to the living room or bedroom
Drapes that hang from floor to ceiling; you can choose different designs according to the required theme
Sliding doors with curtains on them for proper concealment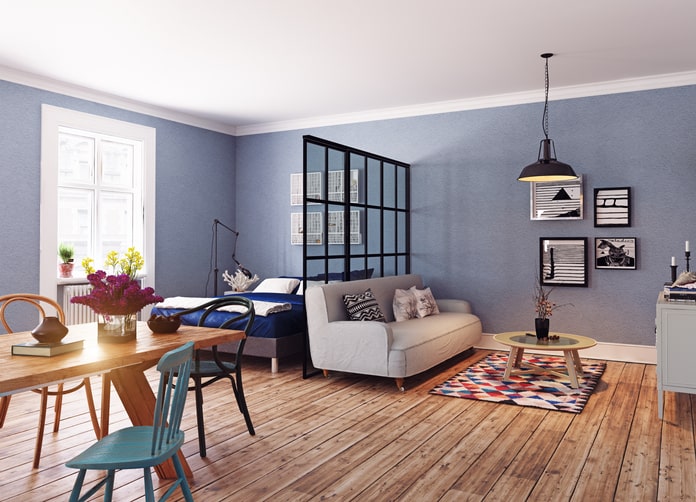 No matter what divider you choose, make sure to minimize clutter as much as possible. If you want to make some more permanent changes, ensure that the laws for renters in your state allow for it.
5. Choose Multi-Purpose Furniture
Since your living room is now performing a double-duty, it's wise to invest in furniture that will do the same. There are several pieces of multifunctional furniture on the market now. You can also get customized pieces for any specific needs. Just a few examples of these include:
Drop-leaf dining tables or coffee tables
A sofa cum bed
An inbuilt full-size trundle bed
A room divider that also acts as storage space, a whiteboard, or plant organizer
6. Designate a Relaxing Spot
It's essential to have a designated sleeping place in order to get proper and healing rest each day. Ideally, you should have such a place in your apartment as well.
Even if you have a Murphy bed that goes into the wall during the day, an arranged daybed style on the floor could be good enough for an afternoon nap. Here are just a few bed and bedroom styles to consider:
Check Out Captain's Beds
A Captain's bed has storage space under its mattress. Some models even have shelving in their headboards, so you can do away with bedside tables altogether.
These beds can be in a daybed style or the standard bed design. Once set up, you can have draperies hanging from the ceiling all around it. When it's daytime, open up the draperies and arrange your daybed as part of the living room.
Consider an Adjustable Bed
Adjustable bed technology has come extremely far over the past decade and is actually a great option when considering your choices when it comes to buying a bed. While in the past, these bed frames were primarily used in hospitals, they are now widely available and there are even some very cost-conscious options out there.
Not only will an adjustable foundation offer you the best possible sleep position with its adjustable settings, but it can also adjusted to an upward position and used as a more general living room seating option.
The Benefits of Getting a Loft Bed
If the apartment has tall ceilings, a loft bed is a fun and practical option. Most models will allow you to get more floor space while also having storage space in their designs.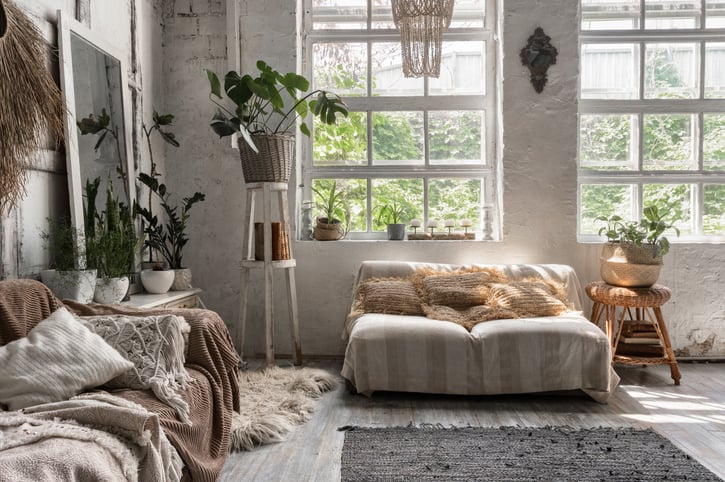 Some loft bed models might be whole rooms in themselves. You can get a whole dresser, desk, and bookshelves right beside or under this kind of bed. An inbuilt loft bed will give a more sleek and sophisticated look.
Japanese Inspiration
If you take a look at some Japanese home interiors, you might notice how they make brilliant use of space. Consider utilizing a whole wall of the living room with inbuilt cabinets, with spaces from a television, a work desk, clothes, and even a whole bed, if viable.
In case your budget doesn't allow for customized cabinets, you can probably get together a DIY version of your own.
The Benefits of a Futon Bed
A futon bed can be the best space saver. You don't need to give it a frame; simply fold it up and stow it away or use it as a large floor cushion when you want the space.
Throw cushions and rugs will make the area more comfortable, but going overboard could make it more difficult to reduce dust in your apartment.
The Takeaway
Hiring an interior designer can be an expensive option, but the above tips will hopefully get you excellent results, even without the help of a professional. After all, you know the role of that living room best. From that knowledge, you can decide whether it will work as a bedroom too.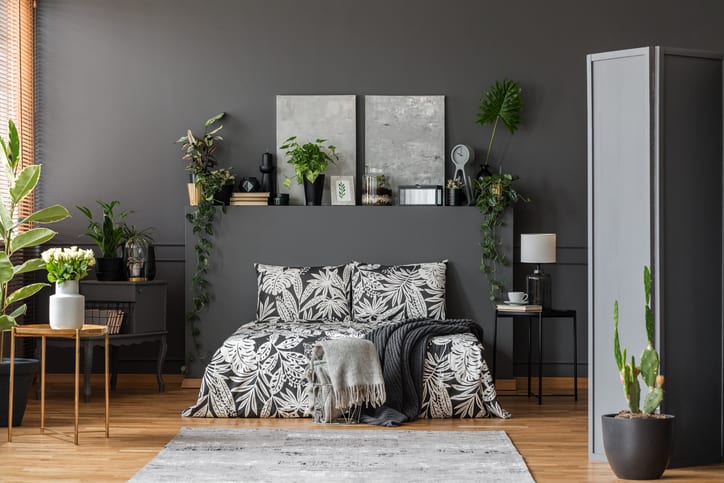 At the end of the day, changing your living room into a bedroom can be an excellent idea. A lot of people can live in a 2-bedroom apartment, but living there on a daily basis may require a third bedroom at times.
Those with a studio apartment will probably have a permanent setup with a living room and bedroom combined. No matter what the situation is, getting more out of the space you have leads to a great feeling! Try out these tips today and see how it goes.