Renting an apartment is a major part of your adult life. Some might say that it is a stepping stone into adulthood or the first taste of independence. With that said, this independence comes with a lot of responsibility that could confuse you at first.
For first-time apartment renters, there are a lot of things to keep in mind. You have to double-check certain factors, make sure to know your priorities, know what invalidates a security deposit, and so much more. It is not just a matter of moving in and paying rent; there are all sorts of matters to handle before the move-in date.
What Do Apartment Leases Usually Entail?
One of the first and foremost aspects of renting an apartment is the lease signing. Whether you are dealing with a property management company or directly with the owner, apartment leases will set out the agreed-upon monthly rent, the move-in date, first month's rent, and many other details.
After the lease signing, you are legally bound to uphold this contract for the stipulated time. So, don't get too excited and sign right away; take a deep breath and know as much about the lease as possible beforehand.
When Do Apartment Leases Usually Start?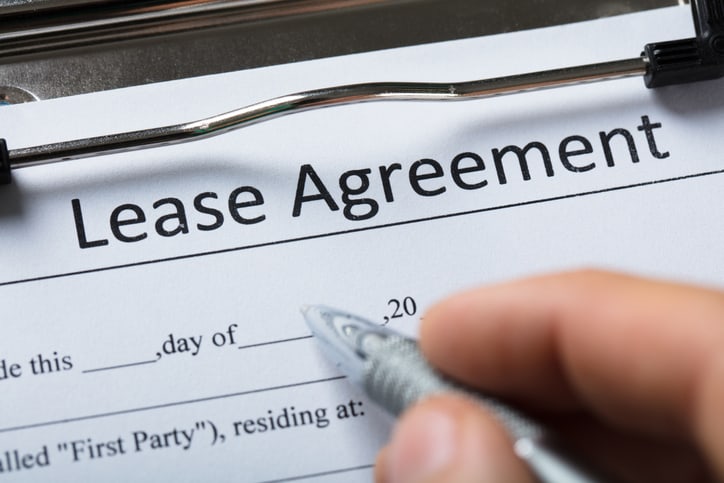 One very important question about a lease signing is when it actually happens. You do not want to sign it before a proper apartment hunt nor do you want to leave it so late that someone else snaps up that perfect apartment.
In the U.S., apartment leases will usually begin on the first date of a month. You may have signed the lease some time before that, but the actual start date could be later on or on the same day. However, some leases may start in the middle of the month right when the previous tenant leaves and the apartment is ready for new occupancy. It might take a week or two for the preparation period, which means the new lease will begin once the apartment is ready.
How to Make Sure of the Right Signing Time
Signing apartment leases is not a small thing. While you can break them later, there are major penalties involved (learn how to break a lease without penalty here).
Before you plan that move-in date, check out these guidelines for determining the perfect time to sign a lease:
1. Strike a Time Frame Balance
Before you rent an apartment, keep in mind to move at just the right pace. Signing too quickly increases the risk of scams, but being too hesitant could result in the property owner renting to some other tenant. Ideally, the time for signing should be 20 to 24 days before you plan to move-in. The lease start date might be different from the move-in date, so make sure to double-check that and plan accordingly. You may also want to do some research on how to read an apartment lease.
Starting the Apartment Search
If you look for an apartment early on, it probably won't be too easy to find units for your intended move-in date. If you do find a good option, there would probably be a wait until the previous tenant moves out. If there are less than two weeks left, though, you won't get many options. Plus, there will not be enough time to check out the apartment properly or fix any wear and tear from the previous tenant.
2. Month-to-Month Leasing
If the 20-day window is gone, you may still have a good chance with month-to-month rentals. There are apartments that are ready for you to move-in on the same day or some days after signing the lease. They only charge one month's rent at a time, so there is not such a major commitment. You will have to wait until the previous tenant moves out, but that is it.
How to Find a Month-to-Month Leasing Deal?
For this kind of deal, you have to find a well-known company that offers flexible leasing. This way, you make a quick decision, but are still fairly safe.
3. Consider the Cheapest Time of the Year
Renting an apartment can be very costly, especially with the security deposit and apartment move-in fees for at least a month's rent. Learn what is the best month to look for an apartment. If budget is a major consideration, you might want to have the lease start date in the winter months. Fewer people are renting new apartments at that time, as they are already bogged down with the holiday rush and expenses.
Avoid the Summer Months
A lot of college students are moving into new apartments during the summer. This drives up the prices and gives you less of a choice. If there is no option but to move in the summer, you might want to see if your parents can lease an apartment for you.
What We Get in the Winter
Prices and rental rates may be lower during winter, but the difference usually is not a miraculous one. However, you will be a bit more comfortable while moving before your lease starts.
There may also be other advantages to moving during winter. At this time of the year, the property owner can offer certain perks. In return for a shorter or longer lease, you may get the following:
4. The Best Time During the Month
Once you know which month you want to move-in, you can start planning your tours and the eventual lease signing. Keep in mind that the lease for any previous tenant will expire at the end of a certain month. There will be at least a 30-day notice before they leave, so this is the ideal time when you want to start looking for a place to rent. For instance, anyone wanting to move homes in December should begin their search in the last half of November. Checkout our top five websites to search apartments for rent here.
Apartments in Mid-Month
The middle of some months is also prime time to rent an apartment. While landlords will probably still perform credit checks, they would love to have a tenant for their empty units. You can save a lot on rent by moving in quickly, but do check out all apartment lease options before signing.
About Prorated Rent
Month-to-month leases usually charge prorated rent. The same goes for an apartment that one rents for just a day or week.
So, what is prorated rent? The prorated rent is only charged for the term that the tenants occupy the unit. Try to opt for a monthly rate if you are staying there that long. A daily rate might be an option, but those are usually quite high when you do the math.
5. Different Times in Different Cities
The city where you are planning to live will also have varying peak times and down times for apartment rental rates. A college town, for instance, will probably have no units available if you start looking too late in the summer. The huge student population will snap up anything that is affordable, and even expensive options if they have help from their parents. In such cases, if you are not a student yourself, begin your apartment search after the start of the term in September. The landlords of the remaining apartments will rent them out at a beneficial deal for you so that they don't have empty property eating up their money.
Renting an Apartment in Winters
You might want to rent an apartment in a little town that is known for its winter festivals. For such places, the winter months might be the busiest time for the housing industry. People will probably travel from far and wide to attend the festivities and rent apartments for some time. While they might not be there for long, the rental rates will certainly go up in such an atmosphere. You would be far better off waiting it out and start applying for apartments when the visitors are on their way out.
The Takeaway
When you see a shiny new apartment in a decent apartment complex, you might get tempted to whip out that first month's rent right away. However, signing on the same day that you tour an apartment is rarely a good idea. Consider all the semantics, run a background check on the property manager, and make sure your current bank statement is in order.
The tips above will also help you understand when to sign apartment leases and read them properly as well. In some cases, you might even consider having a lawyer review your apartment lease before signing. Here is wishing you the best of luck in your apartment search and first apartment!