If you are looking for an apartment to rent, you typically have a few options. They usually range from renting a studio, one bedroom, two bedrooms, or three-bedrooms apartment. Your decision, however, is constantly influenced by your financial situation.
That said, renting a studio apartment could be an excellent option in order to save money on rent without having to find a roommate. As a general guideline, you should keep your rental rate below 30% of your gross income. Learn more about how much income is required to rent an apartment here.
If you wish to reside in a city where rental rates are typically high, renting a studio apartment may be the best option for you.
What is a Studio Apartment?
A studio apartment, which is sometimes mistaken for an efficiency apartment, is a self-contained space with everything in one place, such as the bedroom, living area, and kitchen. Although the bathroom and closet may be in a separate room, a studio apartment has everything in one space.
Some studio apartments may be larger than others. So, contrary to popular assumptions, studio apartments are not defined by their living space (smaller square footage). Studio apartments are frequently among the most popular searches on the internet among millennials that are just starting out in life.
How to Find a Studio Apartment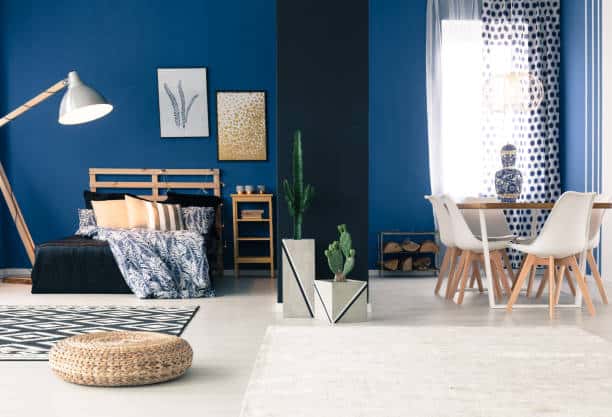 How do you locate the right studio apartment now that you have made the decision to rent one? Finding the perfect studio apartment, like renting any other type of housing, necessitates extensive planning. Read more on how to choose an apartment here.
The good news is that you can learn tricks and tips on locating the best studio apartment within your desired location. That said, we have outlined seven tips you can use to find your dream studio apartment.
1. Consider Your Needs
This is, without a doubt, the most crucial step in your studio apartment search process. You need to establish what matters to you before choosing the apartment. For example, what kind of amenities do you want within the community?
You also need to think about how far away from your workplace the studio apartment is? You will spend more money on commuting if you live far away from your workplace. Furthermore, you need to decide about the proximity to dining areas, shopping centers, and schools. Unless you are willing to go a long distance, it is pointless to choose a place where you will have to travel miles to reach the nearest retail mall or dining establishment.
In addition, if you have a four-legged family member, you might want to consider the studio apartment's pet-friendliness and living space. This is because you may need more space for your furry friend. Is the apartment near a dog park, or does it have a larger outdoor area where you can walk your pet? These are all things you need to take into account when apartment searching.
Also, factor in whether or not the apartment has ample storage space. Is that a deal-breaker for you? If so, add storage space to your "what to look for when renting an apartment checklist."
2. Use Online Tools to Narrow Down Your Search
The quickest way to secure your studio apartment is to use online tools. Whether you are a first-time renter or a seasoned one, searching for studio apartments online will save you both time and money.
That said, use real estate websites to search apartments for rent and use the filter features to narrow down the listings to your desired specifics, such as location, apartment's pet-friendliness, amenities, and average apartment rent.
3. Shortlist Potential Studio Apartments
After you have completed your web search, make a list of the studio apartments for rent that pique your interest. You want to add as many apartments to your list as possible at this point before beginning to compare similar ones based on things like facilities and community friendliness, among other factors.
Furthermore, you may want to seek the assistance of a friend when shortlisting to ensure that you do not overlook any crucial aspects. We are saying this because, when looking for an apartment for rent, it is easy to lose track of what is most important when narrowing down your options.
4. Conduct Virtual Tours to Further Cut Down the List
Use the shortlist to request for a virtual apartment tour if they are not readily available on the websites. Visiting more than 20 apartments on your shortlist might be costly and time-consuming, but requesting a virtual tour can help you narrow down your options even further without leaving the comfort of your own place.
Virtual tours are available for most apartment complexes nowadays, providing a high-quality experience in which you can feel the 360-degree perspective of the unit.
5. Tour Shortlisted Apartments
Using the final list, go on an in-person tour of the studio apartments; then compare rates and the feel of each neighborhood. Make sure you ask as many questions as you can at this time to your future landlord. At this point, you want to get rid of your concerns regarding the apartment, such as how to deal with noisy apartment neighbors or what is considered emergency maintenance in an apartment?
The following are a set of questions you should ask your prospective landlord while touring the apartment:
Do you accept pets, and if so, what is your apartment pet policy?
How many people can live here, and what is the visitor policy?
What is included in the rent, and what fees will I have to pay?
Is there any parking available? Is there an extra charge for parking?
When is the monthly rent due, and how do I pay it?
How to get security deposit back once I have vacated the apartment?
What obligations does the landlord owe me as a tenant?
Wondering how long do apartment tours take? Learn more here.
6. Prepare Your Application Documents
After vetting all of the apartments on your shortlist, you should now have a specific apartment engraved in your mind to become your new home. The next step is to prepare all the necessary documents needed to support your application.
Do you know what is required for your application? You need to ask your future landlord for specifics of what you need. With that said, generally the following are documents necessary during the application:
● Pay stubs
● Bank statements or employment history
● Proof of identification (a photo ID or driver's license)
● Credit report
Also, ensure that all of the information you provide on your apartment application is correct. Providing false information may delay your approval or result in your application being rejected. That said, spend extra time reviewing your application to ensure that everything is in order and that your entries are accurate.
7. Sign the Lease Agreement
Signing on the dotted line is typically the last step before officially becoming a member of the apartment community. So, spend all the time you need to review the lease agreement before signing it. You want to be sure you read through all the provisions, such as the break lease clause and rent due date. Learn how to read an apartment lease in more detail here.
Since the lease may make or break your new apartment living experience, reading it thoroughly can help you understand what you are getting yourself into. Discover whether you should have a lawyer review your lease agreement here.
Think about this scenario, you signed the lease hastily and without thoroughly reading it. However, the following month, or even after three months, you need to move out due to job obligations. Unfortunately, your lease only allows you to move out after six months, so you will have to pay for the remaining months, even though you will not be staying in the studio apartment.
That said, look for those small details in lease agreements before signing; you only have the leverage before signing it, not after.
Final Thought
Finding a studio apartment can be difficult if you do not plan ahead of time. Get all the assistance you require, even from your friends and relatives. The good news is that the advice provided above will significantly assist you in finding your next studio apartment. Good Luck!