Assume you find yourself in Michigan and are looking for either a house or an apartment to buy or rent; where do you go? There are many places within the state that you can go to get a house or apartment that fulfills your needs. You can find reputable locations above standard homes, including Cass Lake apartments Waterford, MI, and Keego Harbor, Michigan. In this article, we're going to explore the differences between these two and give reasons why each might be ideal for you.
Cass Lake Apartments, Waterford, MI
This is one of the most reputable home unit locations in Michigan, being between West Bloomfield Township and Orchard Village. There are several houses around Waterford that you can choose from. There is a free way of living while at Waterford that gives you access to the following amenities:
Lakefront Views
If you're looking forward to having lakefront living, boat dock rentals, classic Michigan ambiance, then one of the best places to find it is at apartments on Cass Lake. In Waterford, this dream could become a reality.
When you live in a home with a lakefront view, you'll get a similar experience as living in a resort. You'll always feel like you are in vacation mode with shorts and bikinis during evenings and weekends.
If you decide to settle in any of the Waterford homes, you'll be exposed to fresh opportunities of starting new recreational hobbies, including, but not limited to, windsurfing and kayaking. Research has also revealed that people who stay near lakes have shown increased peace, contentment, and happiness.
Granite Countertops
The lakefront views aren't the only exciting feature you will find in apartments at Waterford. You'll also come across granite countertops in both bathrooms and kitchens, which aren't even found in some of the other surrounding houses.
Landlords of these complexes decided to add stone countertops because granite is a magnificent mineral and has a top-notch appeal. Granite has also proven to withstand wear and tear for a long time. For instance, it isn't easy for kitchen equipment and utensils to scratch granite.
Granites have also proven to resist high temperatures that are available in most kitchens, and the material won't absorb any liquids. As a possible tenant, you don't have to worry about potential damage or permanent stains.
Hardwood Flooring
All of the apartment units in the Waterford area come with hardwood floor plans. Hardwood floors have several advantages compared to other types of floors. Such floors will stand the test of time, and you won't have concerns about any possible accidental spills or carpet stains. The innovations and decorations in these apartments also become very effortless.
Spa-Like Bathrooms
If a bathroom is more than just a place for bathing, then you should go for Waterford units. The landlords here have developed bathrooms that allow you to take in deep rest and relaxation. If you are a tenant here and want to take a bath, you can retreat to your stress-free rendezvous with dreamlike features.
The bathrooms are designed from materials that are friendly to the environment. You'll always come across bathrooms that are functional and fittings that are contemporary. You'll also find several storage options as a result of custom shelving.
Pet-Friendly Policy
If you're a pet lover and happen to be looking for an apartment community around Michigan, there is no need to worry. At Waterford, you'll find pet-friendly policies for tenants. In addition, complexes are designed with multiple dog parks and dog-walking stations.
If you're into cats, don't worry because there are large mantels and shelves where your pets can hang out. The home units have an ideal room layout that supports the proper cleaning of pets and eliminates potential hazards.
Community Living
All of the units in Waterford are developed to encourage community living and togetherness. Several factors led to this decision, including the ability of a family to offer friendship, along wth an element of security. There is a sense of belonging that originates from living in a community, eliminating depression or loneliness. Community living has proven to promote healthier and happier lives.
Since the Cass Lake apartments in Waterford, MI are operated and owned by a family, people living there get the same support that is offered to family members. Additionally, members of the community usually come together to update each other and offer surveillance. People might also bump into each other on the beach and, in the process, form lifetime bonds.
On-Site Laundry
Efficient laundry machines usually cost a lot of money, making it hard for people to acquire them. The good news is that in many Waterford apartments, that burden is lifted since laundry facilities are supplied on-site. This becomes the best place to save energy, time, and money.
Location
The complexes are located in Waterford, MI, obviously, which is a very popular city in Michigan. The town is known for having an abundance of outdoor recreational activities for families, and at the same time offering a summertime, relaxed vacation vibe.
You can also enjoy several amazing bars/restaurants, museums, city parks, and historical sites. If you like the feeling of stepping into a summer beach movie, then Waterford is the place to be.
Apart from a lifestyle full of fun, the location has a diverse population, a low crime rate, and various employment opportunities.
Parking
Parking is one thing that is lacking in most apartment complexes. Many landlords normally have limited space where they can set up parking for their tenants. This is a problem that won't only affect tenants, but also their guests.
If there is something you will like about Cass Lake, Waterford apartments, it's the spacious parking spaces. The parking is enough to take care of both guests and tenants. What's more interesting is that many complexes offer resident-only carport parking, which comes in handy during winter. Generally, the parking here is well-lit and secure to ensure safety for families.
Apartment Units in Waterford
Elizabeth Lake Estates
Elizabeth Estates is among the best apartment units in the area to live in. The home units have high regard for security checks and safety, and they are located just a few minutes from the I-75 and M-59 expressways. They are also a stone throw from the lake.
Thanks to the apartments' convenient location, you'll get access to good amenities such as restaurants and the lake itself. The home units have both one-bedroom, two-bedroom, and three-bedroom apartments. Rooms are cable-ready and air-conditioned. They also have modern finishes, including large closets and plush carpeting. As a tenant, you'll also access a fully-equipped kitchen, including a refrigerator, additional storage, and a dishwasher.
The home units also have communal amenities, including, but not limited to, a tennis and basketball court, a swimming pool, a sundeck, covered parking, a rec room, and a barbeque area. You'll get the property manager on site when you need support or assistance. Generally, they are among the best places to live, however a challenge is that pets aren't allowed.
Whispering Woods
The Whispering Woods are another quality apartment complex located in Waterford, MI. These home units feature 1 and 2 bedroom units for family and senior living. There are also two-bedroom and three-bedroom townhouses offered.
The Whispering Woods units are closer to other popular lakes and recreational locations. Amenities within this area include a laundry room, elevator access, on-site maintenance, a barbeque area, and a recreation room.
However, it's important to understand that amenities vary depending on the floor plan that you choose. You should first consult with the management for those having a pet since there are restrictions on certain breeds. There is also a $300 pet deposit that you must give out.
Cass Lake Shore Club Apartments
Cass Lake Shore Club Apartments are located at 3530 Denise Ct., Waterford, MI 48328. The good thing about the Cass Lake Shore Club Apartments is that they stand out, in almost every aspect, from the rest. For instance, the monthly rent at Cass Lake Shore Club Apartments is $740-$1,240, which means that Club Apartments, Cass Lake units are below the national average. The size of 1-2 bedroom units is 809-1,200 sq. ft.
If you have ever been to the Shore Club, Cass Lake area, then you'll appreciate everything about this location. From the moment you get to 3530 Denise Ct., Waterford, MI 48328, you'll realize that the environment there is attractive. Cass Lake Shore Club Apartments has a classic Michigan ambiance, and may be one of the county's kept secrets. There are select units at Club Cass Lake Shore that lets you enjoy washer/dryer hookups, relax in a swimming pool and workout in a fitness center.
There are unique ways to have a maintenance-free life at Cass Lake at the Cass Lake Shore Club Apartments. All you need is to let the professional staff at Cass Lake Shore Club Apartments know of your preferences. Cass Lake Shore Club Apartments has both one-bedroom and two-bedroom units. The Lake Shore Club Cass website doesn't reflect actual availability, please contact community directly to get more details.
If you want a personal tour, call today to make your dream at Cass Lake Shore Club Apartments a reality. Some of the features you will like at Cass Lake Shore Club Apartments include boat docks available, Cass Lake access, large balconies, and more. You can also enjoy storage units, washer/dryer connections, trees, and green grass.
If you're a dog owner at Cass Lake Shore Club Apartments, you must provide proof of breed and immunization record. To get more information on this, you can contact the leasing office.
Accessing quality schools should never be a concern when you decide to settle at Cass Lake Shore Club Apartments. There is quality within the 3530 Denise Ct., Waterford, MI 48328 location, which includes Oakland Community College, Baker College of Auburn Hills, and Roosevelt Elementary school.
Transportation around the Cass Lake Shore Club Apartments is also quite easy. Roads are well designed for cars or bikes. The area is in an open place, and you'll see a Cass Lake sign on the way. There is also a lake sign, Cass Lake, to point where the lake is. If you can't identify the sign for Cass Lake Shore Club Apartments, let someone direct you.
Cass Lake Apartments, Keego Harbor, Michigan
If you find yourself in Michigan, there are other places that you can look for apartment units apart from Waterford. One such reputable location is Keego Harbor, Michigan. This location is known for offering tenants an ideal space, a good family environment, and exciting social amenities. If you're still wondering whether to rent or buy a home unit in Keego Harbor, Michigan, then keep reading.
Why Keego Harbor is a Great Place
Have you ever gone to a new location or state and got perplexed by its picturesque surroundings and natural beauty? If your answer is no, then you should pay Keego Harbor, Michigan, a visit soon.
Although Keego Harbor isn't talked about like other popular cities in the United States, don't let this lack of airtime fool you. It's a small, tight-knit community, but a beautiful city with several amazing places that you can visit. You'll be very surprised by the city's natural beauty and hidden gems.
Keego Harbor is located on the shores of different lakes. This means you'll have a livability boat dock space for yourself. There is also Dollar Lake within the community.
Although Keego Harbor was planned to be a resort area, originally, it later became a real estate investment area. The city got its name from an Indian word meaning Big Fish (Keego). The majority of houses in this area are very small. There are even old cottages from several years ago still standing around Keego Harbor today.
There is no need to worry when it comes to education, as the area offers everything you need. Here, you'll find the West Bloomfield School District, which is among the top schools in Oakland County, Michigan. In school, your children will get the best education that they need. Better education is among the reasons why many tenants decide to settle in Keego Harbor.
Since Keego Harbor is a small city, several activities assist in developing a good sense of community. The city of Keego Harbor organizes events to help inhabitants come together and enjoy quality time with one another. For instance, there is a Big Fish Festival, which is the largest festival in the city. This event takes place for a full weekend and involves dinner, dance, and car attractions.
Those who have been to Keego Harbor understand that the region is home to amazing public parks, a boat launch, thriving businesses, and great beach access points. It's located closer to Telegraph Road, which links you to I-696.
All in all, you'll find a lot of amazing reasons why you should find a home in Keego Harbor, Michigan.
Finding Apartments for Rent in Keego Harbor, MI
The first thing you must do while looking for an apartment unit in Michigan is to carry out critical research online. The best place to start your search is on the online portal, such as realtor.com.
You will get up-to-date data (including Google Map Data 2021) that offers you indicators and data about vital aspects of the area, including noise level, crime rate, schools, and rental prices. A data map is a perfect way to get information about the pros and cons of renting or buying a home unit in Keego Harbor, MI. They also give you a clear direction on where you should look for rentals.
While looking for an apartment in Keego Harbor, MI, you should also consider your budget. To avoid paying more than the actual value, you should grasp the rental market in the area and the average rent rates.
Average Rent for Apartments in Keego Harbor, Michigan
First, it's important to state that home units in Keego Harbor are very affordable, with one-bedroom units being the most affordable. The average one-bedroom rent in Keego Harbor stands at $988, which is way below the national average of $1,098 monthly.
The good news is that there are so many quality one-bedroom units that you can choose from.
One-bedroom units come with contemporary interior design features, immaculately designed floor plans, a safe community, available management, and fantastic amenities.
If a one-bedroom isn't enough for you and you need more space, then you should go for a two-bedroom apartment.
The average rent for a two-bedroom unit is $1,128 each month. For this extra cost, you'll have a chance of getting an additional living space, and one more bedroom. The good thing is that there are several two-bedroom units to choose from that can meet your needs.
For those with bigger families and feel that two-bedroom units are not big enough, there is no need to worry. You can go for a three-bedroom apartment, which offers even bigger living space and an additional bedroom. The average monthly rent for apartments offering three beds is $1,294.
Overall Living Cost in Keego Harbor, MI
How expensive would it cost to stay in Keego Harbor? There is no better place to find cheap apartments than Keego Harbor. Let's break down how affordable Keego Harbor is by using the cost of living index.
The cost of renting or buying a home, excluding utilities and bills, in Keego Harbor stands at 15.7% lower than the national average. It's, therefore, much cheaper to rent an apartment here compared to the rest of the country.
It's a proven fact that grocery shopping is 4.1% cheaper in Keego Harbor than the average cost nationally. And when it comes to healthcare, the cost is a record 18.6% lower in the Keego Harbor area than the average healthcare cost in the country.
Apartment Units in Keego Harbor
Bloomfield Apartments
The Bloomfield Apartments are located on Keego Harbor's 48320 blocks. Although it's small, it's still notable. Some might not like the idea of such a compact complex, but others appreciate having smaller home units since they promote a sense of community. Since the number of residents is small, it becomes easier to know who is entering and leaving the building.
The building was developed in 1972 and has a lot of history in the area. The good thing about this community is that it will provide bike storage, a picnic area, a laundry facility, and a two-space surface lot.
There are typical features in their 1-bedroom and 2-bedroom units, including a hood range, air conditioning, a kitchen, refrigerator, and other modern amenities. There is also access to high-speed internet and a fitness center. These apartments go for $850 per month.
However, since the complex is a two-story building with only 28 units, it isn't easy to find a vacancy. And if you're looking for a modem home with updated amenities, these aren't the apartments for you.
Pine Lake Manor Apartments
This complex is surrounded by three lakes, including Orchard, and Pine. It's therefore set up in a very convenient location. This can be attributed to the natural scenery and proximity to the prestigious West Bloomfield School District.
One-bedroom units here range between $850-$875, while two-bedroom units go for between $900-$925. With any unit you go for, you will find additional storage, dishwashers, garbage disposals, dryers, and a full-size washer. Snow removal and trash pick-up are part of your rent, and you'll also access broadband internet, since every unit is cable-ready.
There are exciting amenities here, including a community courtyard, carports, well-maintained grounds, and a large swimming pool; however, if you love pets, too bad for you since only cats are allowed.
Bloomfield on the Green
Bloomfield on the green is the perfect community for retirees and young professionals since it is tagged as "affordable, quiet and caring." With this complex, you'll have quick access to shopping centers. The area is well-landscaped and surrounded by mature trees.
One-bedroom units here go for $998 for one bed, one bath unit, and may go up to $1,128 for one bed, 1.5 baths.
There are at least six unique floor plans in these apartments. Each unit has high-speed internet access and a spacious balcony. There are plenty of community amenities here as well.
You can view the nearby golf course and have access to on-site laundry, along with two sparkling swimming pools. If you love pets, large dogs aren't allowed. You can contact the leasing office for more information.
Cass Lake Front Apartments
You should look no further than this complex while looking for apartments to rent in Keego Harbor. This unit has everything you need, and at an affordable price.
If you're into the gorgeous and natural settings that Michigan has to offer, then you're in the right place. For instance, you'll have access to recreational sports and hiking activities. There are also parks such as Webb Park and Sunset Park, very nearby.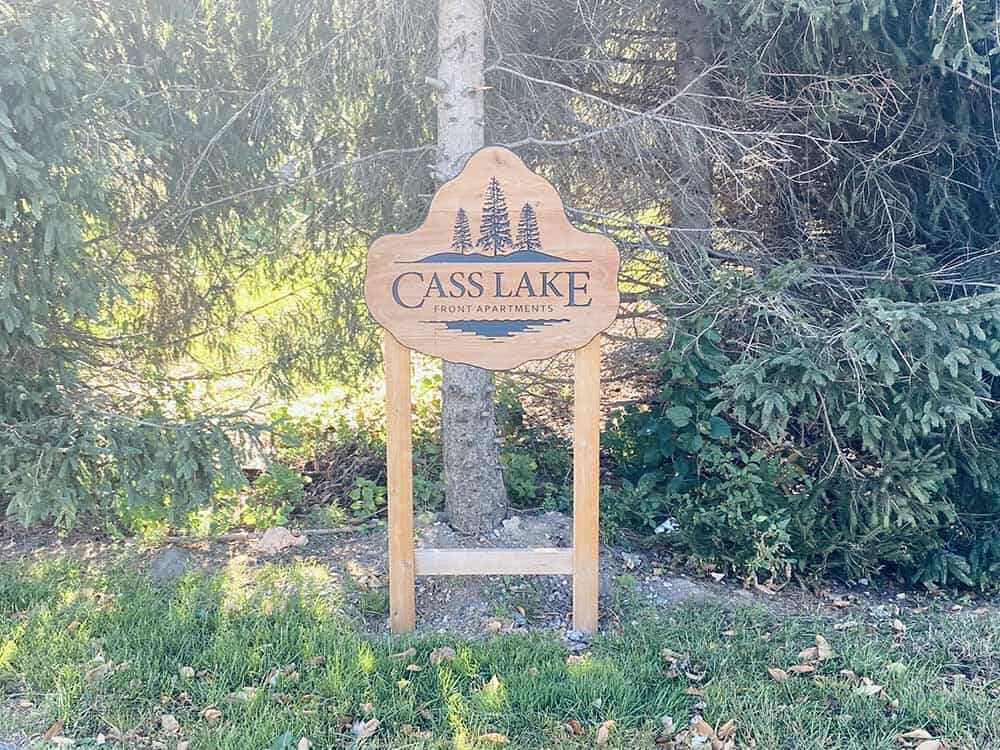 When you live here, you'll be a few minutes from the vibrant downtown area. You'll have easy access to art galleries, boutiques, restaurants, and museums. The apartments are also just 10 minutes from I-75 and five minutes from US-24.
One-bedroom units here go for about $825, while two-bedroom units go for about $950. This is way below the national average.
The good thing about these units are that they are designed with luxury in mind. Each unit has high-end appliances, a pub-style granite countertop, a walk-in closet, and modern and contemporary cabinetry. The rooms are also incredibly spacious.
You'll also encounter several community amenities. These include on-site laundry facilities, covered carport parking, and comfortable outdoor areas. There is also 24/7 on-call maintenance support, and you'll enjoy your own storage units.
If you love pets, this community is created just for that. Whether you have multiple pets or large dogs, this is the place for you. Dog waste stations are located everywhere in the community. You can contact our leasing office for more information.
Conclusion
There is no argument that looking for an apartment is very tiring. However, it's important for you to choose a community that has an enabled site renters insurance program. And before you move into an apartment, familiarize yourself with the landlord rules and regulations, including the security deposit refund policy.
If you want access to the best amenities at an affordable price, we recommend that you go for apartments in Keego Harbor. Here, you will have access to spacious units with exciting amenities such as swimming pools, fitness centers, parks, and parking lots. And if you love pets, this community is just built for that. We hope that you find the home that meets the needs of you and your family.